Hall 8th in overall standings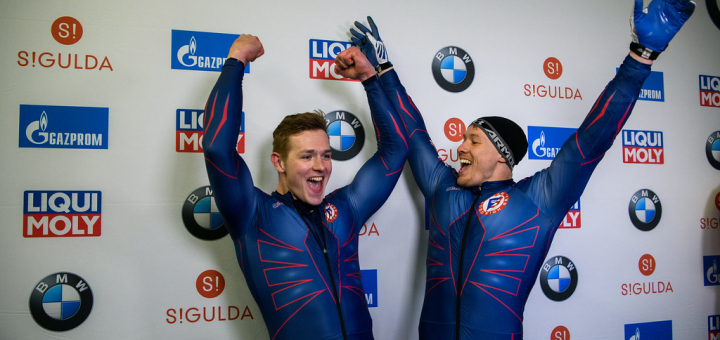 Brad Hall has ended a brilliant World Cup season ranked eighth overall in the 2-man bobsleigh.
The 2018 Olympian beat his previous best global ranking of 12th from the 4-man event from 2017/18 despite sitting out the first two races of the eight-event season.
Hall, who has struggled with a back problem at times this term and lost both Sam Blanchet and Alan Toward to injury in the early stages of the campaign, was 12th in the last race in Sigulda on Sunday, 24 hours after he had finished fifth at the same venue.
He won a stunning silver in Igls in January for Great Britain's first 2-man medal since the 1980s and today's result was the only time he had been outside the top eight in six races.
Hall, who raced with Greg Cackett in La Plagne, Igls, Konigssee, St Moritz and in three of the four runs in Sigulda before completing the last heat of the campaign with debutant Luke Dawes, finished on 1050 points - nearly 100 points clear of the ninth-placed Slovakian sled.
If Hall and co had raced in the double header in Lake Placid in December and simply matched their worst result of the season in both races, they would have finished the year in fourth spot in the world rankings.
Brad Hall & Greg Cackett were fifth on Saturday
Next up for the team is this coming weekend's World Championships in Altenberg in Germany.
The 2-man event takes place on Saturday 22nd and Sunday 23rd February, with the 4-man race following suit a week later.
Hall will be hoping to better last year's 2-man result at the showpiece event of the year when he finished tied fourth alongside Nick Gleeson in Whistler.
Did you know?
Brad Hall, Greg Cackett and Luke Dawes had never raced at any level in Sigulda prior to this weekend.