Hall has to settle for 16th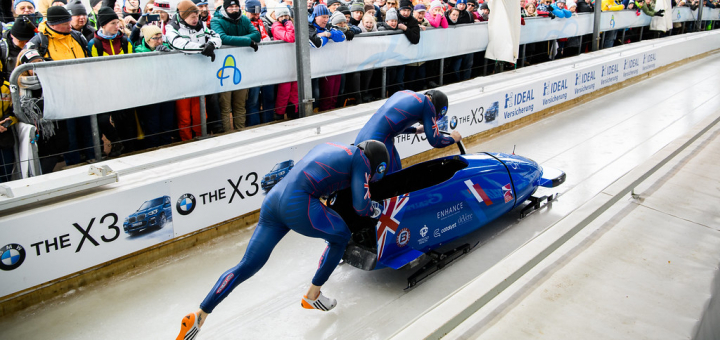 Brad Hall and Greg Cackett finished 16th in the 2-man bobsleigh World Championships in Germany on Sunday afternoon.
Hall and Cackett had headed to Altenberg with high hopes of competing for the top six after a stunning World Cup season but a disappointing first day of the four-run race made that almost impossible this afternoon.
They did jump up the standings on the final day, though, as they climbed from 17th to 16th after the last two runs of the showpiece event of the year, despite the fact that Cackett was carrying an injury for runs 3 and 4.
And they gave us another glimpse of their clear potential to be among the very best at the Beijing Olympic Winter Games in 2022 in the fourth and final run as they registered the sixth quickest time of the 20 remaining teams.
Heavy rain had made conditions even tougher than normal at one of the most technically demanding tracks on the circuit, with every one of the 26 sleds who started Run 3 coming down considerably slower than they did on Saturday.
Hall and Cackett gained a spot in the penultimate run, however, as they swapped places with Latvia's Ralfs Berzins, and they held that position for the remainder of the race thanks to that impressive final heat.
Fellow Brits Lamin Deen and Ben Simons finished 24th after they improved their overnight position by a single spot in Run 3. 
It wasn't enough for 4-man specialist Deen to make it through to the final heat, though, with only the top 20 sleds taking to the ice in Run 4. 
Lamin Deen's favoured event is the 4-man
Germany's Francesco Friedrich made history on home ice as he won his sixth successive World Championship 2-man title.
Friedrich, who hasn't been beaten in the 2-man competition at the World Championships since 2011, surpassed the great Eugenio Monti's record as he took gold by a staggering 1.65 seconds.
Team-mate Johannes Lochner won silver, with Latvia's Oskars Kibermanis claiming bronze. 
The race was the last 2-man event of the season but both Hall and Deen will pilot 4-man sleds at the same venue next weekend.
The 4-man race brings down the curtain on the two-week World Championships, with Cackett and Simons also set to compete in the last race of the season on Saturday and Sunday.