Hall & Gleeson in the medal mix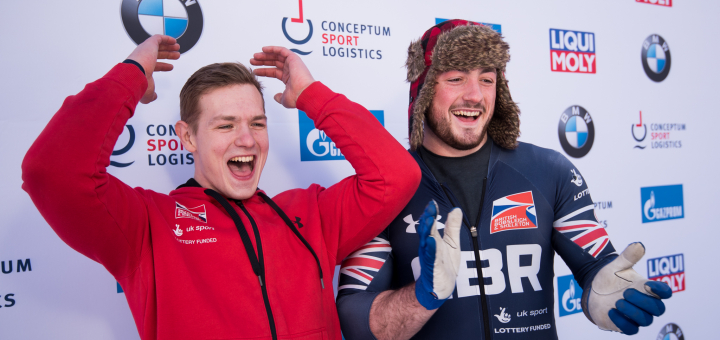 British bobsledders Brad Hall and Nick Gleeson are just outside the medal spots after the opening night of the World Championships in Whistler.
Hall and Gleeson sit fourth at the halfway stage of the four-heat race as they chase a first British 2-man medal in this competition for more than half a century.
Former decathlete Hall and serving Paratrooper Gleeson are only a tenth of a second behind Germany's 4-man Olympic silver medallist Nico Walther in third on the fastest track in the sport. 
Bruce Tasker and Joel Fearon finished fourth in Igls three years ago but no British 2-man sled has been on a World Championship podium since Olympic Champions Tony Nash and Robin Dixon won bronze in Cortina in 1966.
Hall and Gleeson, who secured the country's first top six spot in a World Cup 2-man race for 13 years last month, sat fifth after Run 1 having clocked a time of 51.24 seconds off the back of the second quickest start of the heat (4.78). 
Their second run effort of 51.46 - again with a 4.78 start - saw them jump ahead of Latvia's Oskars Kibermanis by 0.04 seconds and stretched their advantage over the sixth-placed South Korean sled to 16 hundredths.
Fellow Brits Lamin Deen and Toby Olubi head into the second day in 21st spot after registering times of 51.89 and 52.01 seconds.
Of the 31 sleds who started the race, only 20 will be involved after Run 3 tomorrow and Deen and Olubi are currently three hundredths of a second shy of that mark.
The two pilots who tied for Olympic gold in South Korea 12 months ago are out in front again at the biggest global showpiece since PyeongChang, with Germany's Francesco Friedrich just ahead of home favourite Justin Kripps. 
Friedrich became the first man to win all eight World Cup races in a single season with victory in Calgary last week and he has taken that form on to the big stage to lead Kripps by 12 hundredths heading into the second half of the competition tomorrow.
The final two heats of the 2-man race take place at 1am GMT on Sunday, with the women's event next on the agenda at 7.30pm today. Mica McNeill and Montell Douglas will start ninth of 19 sleds for Great Britain having finished sixth in their most-recent race together in mid-January.