Hall 10th & Deas 19th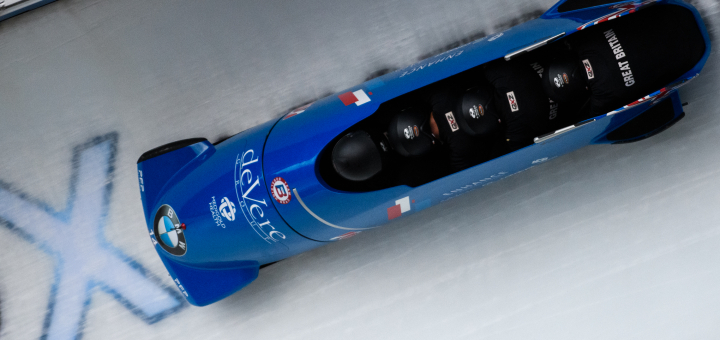 Brad Hall sits tenth at the halfway stage of the 4-man Bobsleigh World Championships after a solid first two heats in Altenberg.
Hall clocked times of 54.60 and 54.63 seconds on Saturday afternoon to move into Day 2 with a chance of a top six spot.
The 29-year-old, who was 16th with Greg Cackett in last week's 2-man race, is fourth tenths of a second off a wider podium spot, with the Swiss and South Korean sleds in equal eighth just 18 hundredths in front of the Brits.
Hall, Cackett, Taylor Lawrence and Luke Dawes were in the top ten in four of their five World Cup races this season and they will hope to hold off the challenge of the two Russian teams and the French four who are on their tails ahead of Sunday's final two heats.
Lamin Deen, Olly Butterworth, Ben Simons and Tremayne Gilling also featured in the first two runs in Germany and they look to have done enough to ensure they will be one of the top 20 sleds to make it through to the final run tomorrow afternoon.
Deen's team currently sit 20th but are 41 hundredths of a second ahead of the third Russian crew in 21st after recording times of 55.34 and 55.15 seconds today.
Nico Walther leads for Germany ahead of Oskars Kibermanis from Latvia and fellow German Johannes Lochner, with pre-race favourite Francesco Friedrich surprisingly back in joint fourth with Justin Kripps.
Run 3 begins at 12pm GMT on Sunday, with Run 4 for the fastest 20 sleds following shortly after.
The women's skeleton concluded before the bobsleigh began on Saturday morning when Laura Deas finished 19th, Madelaine Smith 21st and Kim Murray 23rd for GB.
Deas held her overnight position of 17th after Run 3 but dropped back two spots in the final heat.
Both Smith and Murray climbed up a place after their third run but it wasn't enough to secure a spot in the top 20 and they therefore had to sit out Run 4.
Germany's Tina Hermann made it back-to-back World Championship wins after a stunning track record in the final run saw her overhaul Switzerland's surprise leader, Marina Gilardoni.
Gilardoni looked destined to win gold as she entered Run 4 with more than sixth tenths of a second advantage but she couldn't reproduce her form from the first three heats after Hermann had piled on the pressure in front a noisy German crowd.
Austria's Janine Flock - the slider Deas pipped to Olympic bronze two years ago - finished third, with Hermann's team mate Jacqueline Loelling fourth and Russia's Elena Nikitina fifth.
Laura Deas was 19th in Altenberg on Saturday
Deas and Smith will be back on the ice tomorrow morning from 9am GMT as Altenberg hosts the first ever skeleton team competition.
Whereas previous World Championships have included a team event across both bobsleigh and skeleton, this year sees a skeleton specific event in which a male and a female slider will compete together for a brand new title.
Deas links up with Marcus Wyatt after they ended up as the top Brits in their respective races, with Smith joining forces with World Championship debutant Matt Weston, who finished 15th in the men's competition on Friday.
Smith and Weston start third of 15 sleds and Deas and Wyatt go off 11th, with Hermann and newly crowned men's world champion, Christian Grotheer, the team to beat.