1 year on: medal magic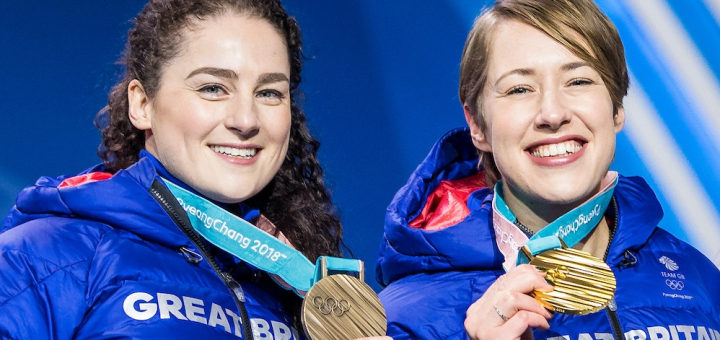 It's exactly one year since Lizzy Yarnold won Skeleton gold and Laura Deas bronze in a record-breaking day for British Skeleton and Team GB so we thought we'd relive the magic moment!
Here's how it happened on February 17th 2018 in South Korea...
Lizzy Yarnold won Skeleton gold and Laura Deas bronze in a record-breaking day for Team GB.
Yarnold became the first Brit to retain an Winter Olympic title as she produced a stunning second day performance having sat third overnight and second going into the fourth and final run.
Deas jumped up from fourth to third to join her friend and team-mate on the podium, thus ensuring Great Britain had two athletes in the medals in the same event for the first time in the 94-year history of the Olympic Winter Games.
Yarnold, who won her first Olympic title in Sochi four years ago, battled a chest infection to secure a stunning second success as she broke the track record in her final run.
The 29-year-old clocked 51.46 seconds from the silver medal position to put pressure on leader Janine Flock and the Austrian was unable to respond as she slipped from first to fourth.
Flock's loss was Deas' gain as the Wrexham-born, Bath-based slider saw heartbreak turn to elation as she moved up into third when it looked as though she would miss out on a medal to German World Champion and eventual silver medalist Jacqueline Loelling.
"I love big occasions like this, I love a stiff competition and the pressure, and I love being at the top and thinking this is it, it's the time to deliver," said Yarnold, who is now the nation's most decorated Winter Olympian.
"The emotions are still going through me and I don't really know what is going on! I'm just so relieved that me and Laura are on the podium together.
Four years ago, the whole team, led by Andi Schmid and Danny Holdcroft, all dared to dream that this was possible and I just went with all them and we managed it. I believed I could do my best but it's something scary to think that maybe I could be a double Olympic champion. I didn't really let myself say that in the build up!
"After the first run I wasn't sure whether I was going to be able to finish the race because my chest infection was so bad I was struggling to breathe. I only got here with the help of my team. My physio, Louise Turner, just gave me a talking to before Run 2 and reminded me that I could do it and we could do it together.
"There's a whole dream of if everything goes right... 'if I do this, if I get this corner right, if that transfers, if the speed comes, everything will work magically'. I guess now it's just relief that everything went to plan."
Deas and Yarnold made history for Team GB
The achievements of both Yarnold and Deas also had wider implications for the British contingent as a bronze medal for Izzy Atkin in the Ski Slopestyle ensured Team GB celebrated their best-ever day at an Olympic Winter Games.
And Deas, who finished 0.62 seconds behind Yarnold and two hundredths ahead of fourth-placed Flock, couldn't hide her own excitement at being part of something so special.
"I can't believe I am part of a Super Saturday, I never thought I'd be saying that. I'm just extremely proud to be part of an historic day," said Deas, who joined British Skeleton through the same Girls for Gold Talent ID campaign as Yarnold in 2009.
"I thought 'this must be a mistake, someone is going to tap me on the shoulder and say, 'Sorry'. I just can't believe it's happening. It's like a dream. I thought it would be snatched away at the last minute.
I almost couldn't feel my legs because I was so nervous before Janine's final run. I didn't think I'd done enough but the further Janine came down the track, I thought 'oh, maybe'.
"I have worked so hard for this for the past nine years and I think I have done myself proud. My family are freezing their socks off and I am so glad they can be part of it.
"I'm so pleased for Lizzy, too. She is such a phenomenal athlete and she knows how to bring it when it matters. To be able to share this with one of my best friends makes an incredible day even more special."
Gold for Yarnold and bronze for Deas capped a remarkable three days for British Skeleton after Dom Parsons became the first British male skeleton athlete to win an Olympic medal for 70 years when he secured bronze yesterday morning.
British Skeleton have now won seven medals at the last five Winter Games since the sport was reintroduced to the Olympic programme in 2002, including a hat-trick of golds in 2010, 2014 and now 2018.