GB Bobsleigh pick World Champs crews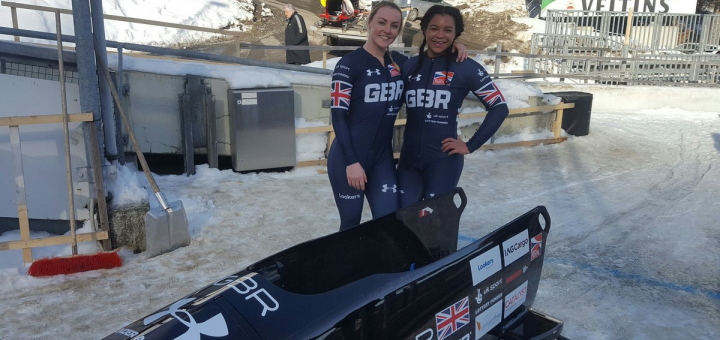 GB Bobsleigh have named the three crews who will kick off the World Championship action in Konigssee this weekend.
Mica Moore joins Mica McNeill in the women's event on Friday and Saturday, with Joel Fearon pushing Bruce Tasker and Sam Blanchet teaming up with Brad Hall in the 2-man competition on Saturday and Sunday.
Moore continues her fine rise since starting her bobsleigh career in the summer as she looks to build on last month's World Junior Championship success with McNeill in Winterberg.
The pair claimed GB's first World Junior gold for six years on January 28th, just three days after McNeill and Montell Douglas took top spot on the Europa Cup circuit for a first British EC success since 2010.
Douglas misses out on a World Championship place after she returned home to receive treatment on a hamstring injury with a view to being fit for the final World Cup race of the season in Pyeongchang next month, which doubles up as the Olympic Test event.
Tasker and Fearon will be looking to go one better than their superb showing in Igls last season when they came agonisingly close to bagging a bronze medal in what was Tasker's first global championships as a pilot.
Their fourth-place finish in Austria was GB's best for fully 50 years, with Fearon, who was fifth alongside Tasker in the 4-man at the 2014 Winter Olympics, describing that achievement as 'surreal' and 'better than any dream I've ever had'.
Bruce Tasker and Joel Fearon were link up once again in the 2-man competition
Blanchet joins Moore as a World Championship debutant in his first season in the sport after successfully switching to bobsleigh from rugby union just a few months ago. The ex-England Sevens and Exeter Chiefs player will hope to help Hall celebrate his comeback from a serious hand injury with an improvement on his 17th spot with Ben Simons 12 months ago.
"We are on a very positive trajectory having hit all the targets set in the past seven seasons and we go into these World Championships with the intention of doing so yet again," said GB Bobsleigh Performance Director, Gary Anderson.
I'm happy with the strength of the squad and the talent available to us for these World Championships and I'm excited to see how we perform on the big stage over the next two weekends.
"The pre-Olympic year presents unique challenges as we are finalising sled development and testing optimal crew combinations but is also a great opportunity for our athletes to put down a marker for their inclusion in the Olympic team in 12 months' time.
"That definitely creates an element of pressure as we seek a big result in the build up but we are confident our processes are correct and that we are heading in the right direction. This year we sometimes need to measure our progress with a compass rather than a clock but there is no doubt that some big results in Konigssee would be a real boost."
Anderson has always spoken of the need for strength-in-depth in his squad on the path to the Pyeongchang Olympics and that strategy has been even more important than ever this season as GB have suffered a number of injury setbacks throughout the campaign.
As well as seeing Douglas fly home this week and watching Hall miss two months of the season after damaging his hand in a crash in North America before Christmas, Anderson has been without Sochi Olympian John Baines for much of the World Cup season, while Fearon is currently receiving treatment on a back injury having sat out the last lot of action in Innsbruck earlier this month.
"There is no getting away from the fact that we have had more injury issues than we would have liked so far this season and, at times, it has felt as though the weather and conditions have been significantly against us, but that is the nature of top-class sport," added Anderson, whose squad have achieved three fifth-place finishes and one fourth position at the last four global championships.
"Hall, Baines and Fearon are all working hard to be fit for what is the showpiece event of the year and we will give them every chance to prove their fitness right up to the last minute. It is a race against time but I'm confident they will be ready to give their all for GB.
We've had some really god results at the last three World Championships and the 2014 Olympics and the recent World Junior Championships showed that we are in a strong position for the future.
"We have perhaps been lacking that one standout result at the very top level that will give us extra confidence moving forward but I know we have athletes who are capable of winning medals on the world stage - it's not a matter of if but when."
After this week's women's and 2-man action, the 4-man competition takes place on February 25th and 26th, with the final make up of the GB crews to be announced next week.
Anderson has already named his full squad, however, with Lamin Deen and Hall set to pilot the 4-man sleds and Greg Cackett, Tremayne Gilling, Mark Lewis-Francis, Andrew Matthews, Toby Olubi, Baines and Simons joining Blanchet, Fearon and Tasker in competing for a push slot.
"We have chances in all three disciplines going into these championships, and that's exciting for me to say. It's certainly not often that GBR have been able to say that.
"Head Coach Dominik Scherrer now only talks about a Top 10 placing as being the absolute minimum standard for Great Britain in any race in which they participate and that says a lot about how far we've come in recent years."
GB team for this weekend's races:
Women's: Mica McNeill & Mica Moore
2-man: Bruce Tasker & Joel Fearon; Brad Hall & Sam Blanchet
Full World Championship squad:
Men's: Lamin Deen, Bradley Hall, Bruce Tasker, John Baines, Sam Blanchet, Greg Cackett, Joel Fearon, Tremayne Gilling, Mark Lewis-Francis, Andrew Matthews, Toby Olubi, Ben Simons
Women's: Mica McNeill, Aleasha Kiddle, Mica Moore
World Championship schedule:
All times are GMT

Fri 17 Feb
Women's Bobsleigh 1.15pm

Sat 18 Feb
Men's 2-man Bobsleigh 9.30am
Women's Bobsleigh 2.15pm

Sun 19 Feb
Men's 2-man Bobsleigh 9.30am
Team Competition 2pm

Fri 24 Feb
Men's Skeleton 10am
Women's Skeleton 2pm

Sat 25 Feb
Women's Skeleton 7.30am
Men's 4-man Bobsleigh 12.30pm

Sun 26 Feb
Men's Skeleton 7.30am
Men's 4-man Bobsleigh 12.30pm