GB Bobsleigh name Pyeongchang crews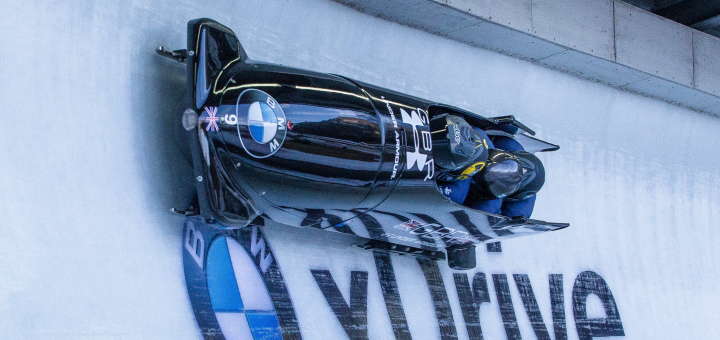 GB Bobsleigh are back in action tomorrow as they compete in their final World Cup weekend of the season at the venue for next year's Winter Olympics.
The team have a brace of 2-man crews taking on the world's best in Pyeongchang at 9am tomorrow and the same number of 4-man sleds sliding on Sunday at 6.30am GMT.
Bruce Tasker and Toby Olubi go for GB alongside Brad Hall and Ben Simons in the 2-man competition, with Hall joining Lamin Deen as a 4-man pilot the following day.
Hall will be partnered by Greg Cackett, Tremayne Gilling and Sam Blanchet, with Deen working with Andrew Matthews, Simons and Mark Lewis-Francis.
GB won't feature in the women's competition on Saturday as pilot Mica McNeill continues to follow protocol in her recovery from concussion.
"This Olympic test event is part of an important process for us," said GB Bobsleigh Performance Director, Gary Anderson.
"We have had a lot of quality time here in South Korea over the past three weeks and that was necessary. It is not a part of the world we are used to competing in and we needed to experience the environment and see how individuals adapted and responded.
"We have learnt a lot about the track and our athletes have worked very hard in sometimes quite challenging situations.
We have gathered some really important information, both on and off the track, and that will stand us in good stead ahead of returning here for the international training week in October.
"It's been a very long season - something that was to be expected a year out from the Games - but we go into this last race the same as any other - giving it our very best. That's all I can ask of anyone.
"As soon as we head home next week, everyone will need a well-earned break. But then the Olympic season starts in earnest and we already have a pre-season programme planned that we know will prepare our athletes well for the Olympic Games."
All races are live via the IBSF website and their YouTube channel.
World Cup 8, Pyeongchang, South Korea
All times are GMT
Sat 18 Mar
Women's Bobsleigh 5am
Men's 2-man Bobsleigh 9am
Sun 19 Mar
Men's 4-man Bobsleigh 6.30am