First 2-man top 6 for 13 years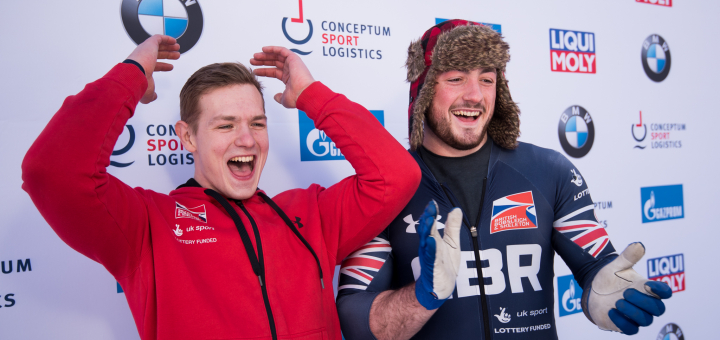 Brad Hall and Nick Gleeson are celebrating Great Britain's best World Cup 2-man bobsleigh result for 13 years after placing sixth in St Moritz on Saturday.
The result, which was the 2-man team's top World Cup effort since just before the 2006 Olympic Winter Games in Turin, kicked off a fine day's work for British Bobsleigh as Mica McNeill and Aleasha Kiddle finished fifth in the women's event a couple of hours later at the spiritual home of sliding.
Saturday's success was a third personal best in as many weeks for Hall and Gleeson as they built on last week's equal eighth spot in Igls and the previous race's ninth position in Konigssee.
Racing in a sled hired from absent Austrian pilot Benny Maier for the second week running, Hall and Gleeson jumped up from eighth at halfway to secure a first wider podium place for the pair, almost four years to the day since Hall first drove a 2-man sled on the sport's top circuit.
Recently retired Bruce Tasker and sub-10 second sprinter Joel Fearon finished fourth in the 2-man competition at the 2016 World Championships but no male British pair has done so well on the World Cup circuit since current Performance Director Lee Johnston secured sixth spot in Altenberg on January 28th, 2006.
"It's been a really successful day for the team and it bodes well for what's ahead," said Johnston, after Hall and Gleeson finished just 0.01 seconds from fifth and McNeill and Kiddle came just 0.07 seconds shy of fourth.
"Brad and Nick have shown that they can compete with the best in the world with the right equipment and we're all really excited about what could happen at the World Championships if we can secure a top sled.
They've been making great progress over the last few weeks and they just keep on getting better. It's been a long, long time since we were in the top six in a World Cup 2-man race and we shouldn't underestimate the significance of their achievement.
"For Mica and Aleasha to finish fifth is another really good result for them. It showed that last week's result was a blip as they've been really consistent this season.
"There's plenty for them to be positive about ahead of the next North American leg of the season and I'm confident they will continue to be in the mix for the rest of the year."
Mica McNeill & Aleasha Kiddle were fifth in Switzerland
Hall and Gleeson race again tomorrow at 9.30am GMT when Alan Toward and Ben Simons join them for the 4-man race.
STAT ATTACK
Hall and Gleeson's second run time in St Moritz was the fourth quickest of the heat, while only three teams were quicker at the start than the Brits.