Ellett leads the way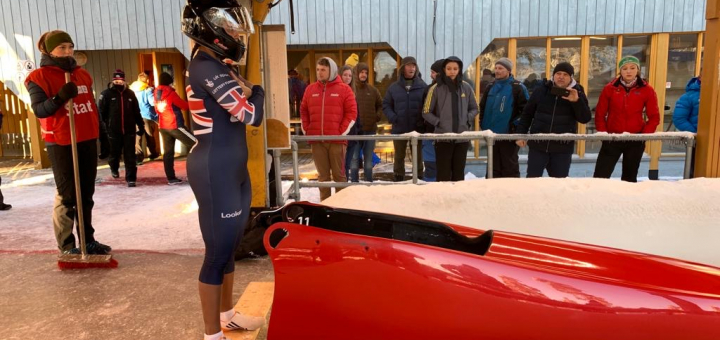 Jo Ellett led the way for Great Britain in the first race of the European leg of the women's monobob competition on Wednesday morning as she secured a fine seventh spot in Lillehammer.
Ellett, who is a serving Captain in the Royal Engineers, was making her international debut in Norway, as were Felicity Bee, Issy Burke and Rebecca Hannibal.
Bee was the second quickest Brit as she placed 11th, with Burke 14th and Hannibal 19th.
Women's monobob was added to the Olympic calendar for the next Games in Beijing in 2022 in the summer of 2018 and the IBSF have scheduled eight races across Europe and North America for the coming season.
"All the girls finished the week with their best ever starts and Jo, Felicity and Issy felt they drove the best they had all week in the actual race," said Ice Coach and Team Manager, Lee Johnston.
That's a big plus and it shows they're moving in the moving right direction, especially given that three of them have very little experience on ice so far between them. 
"I'm very happy with their progress but we still have a long way to go."
Great Britain had four women in the field in Norway
Russia's Anastasiia Makarova won gold, with Margot Boch from France taking silver and Karlien Sleper from the Netherlands claiming bronze.
Next up for the monobob circuit is Konigssee in the week before Christmas.
Elsewhere, Axel Brown and Marcus Urbanski represented GB across the pond in the North American Cup on Monday and Tuesday evening.
Brown, who is in his first year of competition as a pilot having previously been selected as a brakeman, and Urbanski, who was making his international debut, finished 18th in both races in Lake Placid.
Olympic gold medallist Justin Kripps led the way in Tuesday's race, with America's Codie Bascue victorious 24 hours earlier.