Double vision for Thompson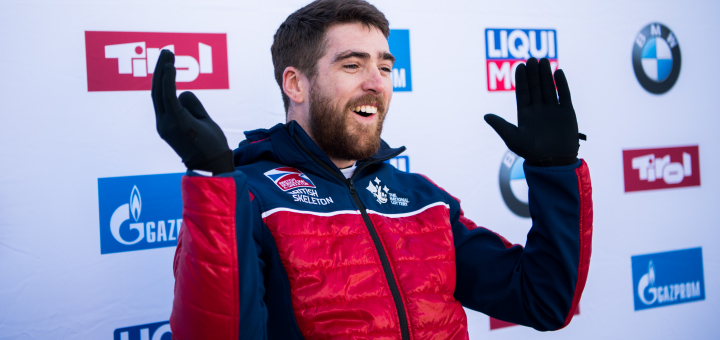 Craig Thompson is seeing this week's World Championships with double vision: there's the excitement that comes with his first chance to test himself on the big stage at a global showpiece but then there's the belief that this is just another part of the bigger picture.
For Thompson, a 27-year-old former footballer from Swindon, the event in Altenberg is the latest step on the road to the next Olympic Winter Games. It's a big step, but it's just a step, nonetheless.
From the moment he started skeleton in 2014, Thompson had his heart set on the Games in 2022. When Beijing was announced as the host a few months later, it added another edge to that aim. When he made his World Cup bow exactly 12 months ago, the dream became a little closer to a reality - as it did when he made the wider World Cup podium in Austria in January - and selection for the World Champs is another sign that he's on the right track.
And, while he admits it's a special feeling to be sliding for GB on his biggest stage to date, he insists that the ultimate goal is still two full seasons away.
"It felt a bit surreal when the team was announced, to be honest. Knowing that I'll be competing at my first international championships is a good feeling. Representing my country at a major champs is going to be pretty special," said Thompson, who missed out on selection for last year's Worlds by the narrowest of margins. 
"I didn't see missing out last year as that big of a blow - I almost knew I wasn't going to go because I didn't have the experience at Whistler.
"Would it have been a big blow to miss out this year? Well, it would and it wouldn't.
If I hadn't had made it to the Worlds this year, it would have been disappointing, but I would have learnt from it and kicked on to the ultimate goal of competing at the next Olympics.
"This is a stepping stone to Beijing. It'll be a good experience for me: a four-heat race, a major champs and big crowds.
"But, stepping stone or not, it's a major champs and I want to perform well." 
Craig Thompson had plenty to smile about in Igls last month
Thompson has headed to Germany on the back of what he describes as a 'mixed' season to date.
He had his disappointments early on but bounced back with that hugely impressive sixth-place finish in Igls.
A four-medal haul followed on the ICC circuit across a nine-day period in PyeongChang and Lake Placid but the World Cup season ended with frustration after he missed the cut in Sigulda the week before last.
He is therefore tempering expectation ahead of Thursday's first two heats but there's no reason why he can't end the winter on a major high at his first major champs. 
"I've had a season of two halves," added Thompson.
"The beginning of the season was very tough and I made a lot of mistakes with different things. But I came into some form with the sixth place in Igls and the medals in the ICC races.
"Sigulda race was the Sigulda race - I just need to park it. Rather than dwelling on the negatives, I've got to now try and build on what I did in Igls through to PyeongChang. 
I was struggling to make the second runs at the beginning of the season but that Igls race definitely gave me some confidence, knowing that I can mix it with those guys. But that was only at one track and you don't just race on one track in a season. 
"I've only had just over a couple of weeks at Altenberg in total before this week so I'm not going in with major expectations. We've been talking about the track in meetings and we've had loads of push sessions to prepare us, though, so I'm excited to be here and hoping I've got enough to be competitive.
"I'd like the four runs, obviously, but the aim is to be sliding PBs in terms of time. Anything on top of that is a bonus."
The first two heats of the men's skeleton are scheduled for 9am GMT on Thursday, with the third and fourth runs taking place at 12pm on Friday.
You can watch all the World Championship action via the International Bobsleigh & Skeleton Federation website and on their YouTube channel.
We'll provide updates via our own social media channels and we'll post a round up of the results once they've come in.