Discover Your Gold gathers pace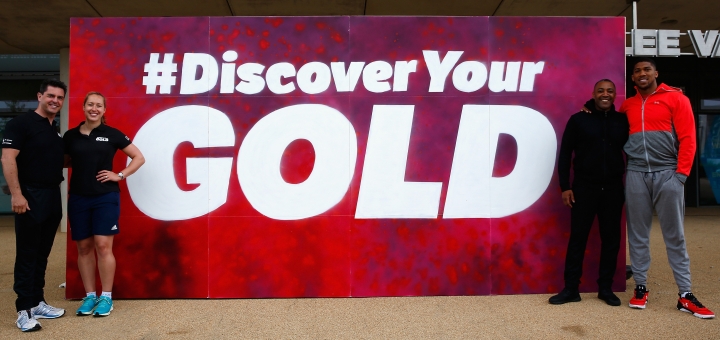 British Skeleton are aiming to unearth yet more Olympic superstars this weekend as the latest stage of the Discover Your Gold talent identification campaign comes to the University of Bath.
Fresh from winning an historic hat-trick of medals at the recent Olympic Winter Games in PyeongChang, British Skeleton are now looking for athletes who can match those feats in future Games.
Working in conjunction with UK Sport and the English Institute of Sport, the team have selected 50 athletes from an incredible 3,000 applicants to take part in a two-day trial in the second phase of a detailed recruitment process.
Those fortunate 50, who are split across the men's and women's disciplines, will now be looking to show they can be the next Lizzy Yarnold, Laura Deas or Dom Parsons as they get their first real insight into life as a skeleton slider.
"We are now in Phase 2 of the Discover Your Gold campaign and this is where things really start to get exciting," said Danny Holdcroft, Head of Performance at British Skeleton.
"The programme has a history of producing medal winners at all levels and these athletes will know that, if they shine this weekend, they could be one step closer to their own Olympic dreams.
"Phase 1 was initiated by UK Sport at a range of nationwide venues but Phase 2 sees them come to our headquarters in Bath to get a much closer look at what we do and how we do it.
"They will be taking part in a series of generic confirmation tests and some more specific skeleton tests, including some coaching on the push track.
They'll be on a sled twice this weekend, with coaching and testing on the track, and they'll get their first experience of skeleton close up.
"All our athletic development staff and our pathway coaches, plus our performance lifestyle advisor, will be working with the group and we'll be looking to expose them to different elements of coaching, as well as giving them remote training programmes they can go away and work on so we can then monitor their progress.
"There were roughly 3,000 who signed up for Discover Your Gold so this group have done incredibly well just to get this far. But it's an undoubtedly tough process and we'll reduce the numbers even further for Phase 3, which begins in mid-August, and again for Phase 4, which kicks off in early September."
The Discover Your Gold recruitment process has a remarkable record of success, with the likes of Yarnold and Deas having come through previous incarnations such as the Girls4Gold campaign in 2008.
The latest crop of athletes to have made their mark via the campaign are already a year into their development as full-time members of the team, while others are shining on the Europa Cup, Intercontinental Cup and World Cup circuits.
The aim now for Holdcroft and co is to bring through a fresh group of talent with the potential to be even better than what has gone before. It's clearly a tough task, but history suggests that, if anyone can do it, British Skeleton can.
"It's a fascinating process and it's massively exciting for all of us here," added Holdcroft.
It's rare in a sporting context that you see the inception of someone with a baseline level of talent entering into a programme and, within circa six to eight years, being at the pinnacle of the sport. That's unique for that journey to sit inside one programme or one team.
"The biggest change from this year to previous years is that the group will reduce in numbers significantly quicker and we will then work with that smaller group of athletes over a longer period of time. There will be a whole series of phased events between now and February/March 2019 and then there will be a two-week confirmation camp on ice and, from there, we will select athletes to come into the programme from April next year.
"The primary aim for this group is to shine at the 2026 Olympic Winter Games. The programme is very proud to have had so many athletes on an Olympic podium and we want that to continue."