Deen delighted with start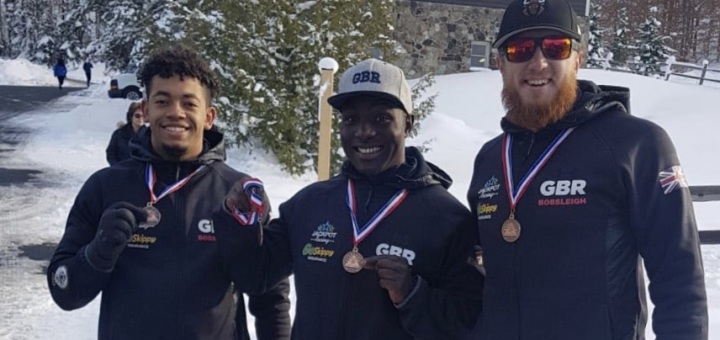 Lamin Deen says he's delighted with his start to the new season as he arrives back in the UK for a well-earned rest.
Deen has just finished a five-week stint in Canada and the United States of America, picking up four medals and three more wider podium places in Whistler, Park City and Lake Placid.
The double Olympian ended the first part of the new campaign with silver and bronze medals in the 4-man and a brace of top-six 2-man finishes in New York State to head home on a high.
"I'm very, very happy with how the season's started," said Deen, who has been impressed with how both his team and his sled have shaped up in the States in particular.
"We've been no lower than sixth in our last seven races and we've won four medals in our last four 4-man starts. We're improving all the time.
Overall, to sit in the top three in the North American Cup (NAC) rankings in both the 2-man and the 4-man is great. There's some tough competition on the NAC circuit with the likes of Chris Spring and Dominik Dvorak, and Brad (Hall) and his guys have been pushing fantastically well. 
"My new 4-man sled is running really well after putting a lot of work into it in pre-season so that's been great to see. I'm very happy with the 2-man as well as I haven't driven that discipline for two years and it's coming on nicely.
"We head back in high spirits as we all feel like we've made good progress out here."
Lamin Deen and co were all smiles after two more medals in Lake Placid
Although Deen has had fellow Sochi Olympian John Baines alongside him so far this season, he has largely been working with a squad of push athletes currently lacking his level of experience.
Axel Brown and Ryan Letts only had six international race appearances between them prior to this season and Tremayne Gilling hadn't raced since January 2017, while 19-year-old Adam Hames - who was a late call up to Sunday's 4-man team - is in his first full season of senior competition.
"We've got a lot of new guys in the team, especially in my squad, and I'm enjoying guiding them through what it takes to handle a winter season," added Deen.
They're gelling really well and getting on with each other, and there's a great atmosphere. We've had a few hiccups along the way with injuries etc but we've bounced back from all of those.
"One of our guys got injured at the last minute on Sunday but Adam Hames stepped up to the plate and did a fantastic job. That was inspirational. Huge credit goes to him and I know he'll have a really fruitful bobsleigh career if he carries on the way he's going.
"Huge thanks to the coaching team as well for their continued support. Now it's home for Christmas!"