Deen delighted to be back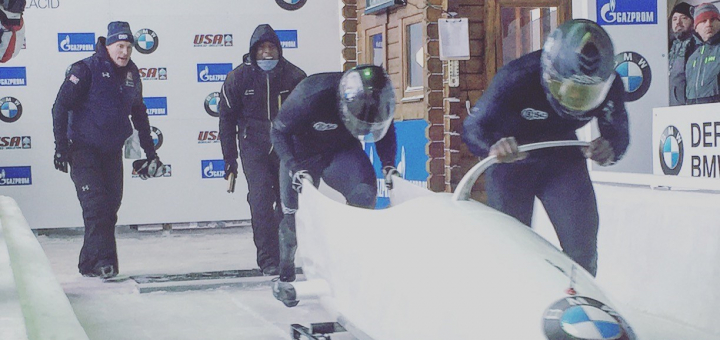 Lamin Deen makes his first World Cup appearance of the season this evening and the double Olympian can't wait to be back among bobsleigh's best.
Deen, who represented Team GB as a pilot at the both the 2014 and 2018 Winter Olympics, goes for Great Britain in the 2-man Bobsleigh in Lake Placid from 7pm GMT tonight and then the 4-man from 6.30pm on Saturday.
The 37-year-old Grenadier Guardsman has already raced 16 times across both disciplines so far this season but all those races have been part of the North American Cup calendar rather than the sport's premier World Cup circuit.
"I'm really looking forward to it: this is the first time I've been away from the World Cup circuit for many years," said Deen, who has raced 65 times on World Cup since 2004.
"Even though I really enjoyed myself on the North Americas Cup, it's good to get back on to the World Cup and compete with the best.
It'll be good to see all my friends that I haven't seen for a while but it will also be good to see where we stand in the world as well. There's been some top pilots competing on the North Americas Cup this year but it'll be interesting to see how we compare to everyone else now.
"That's something I need to find out in this race, and in the Calgary race next week, so I can see where I am going heading into the World Championships and so that I can figure out what we need to adjust to be at our best there."
Deen won World Cup silver in November 2017 but British Bobsleigh's switch from a funded sport to one only receiving transitional funding meant he had to alter his calendar in order to compete this year.
His target has always been to succeed at the World Championships in Whistler next month and he has therefore based his season around competing in Canada and America to maximise his chances of doing just that.
"I'm self funded and the crew are self funded too so that's obviously one reason - it's an expensive sport and we couldn't do it all. But we also wanted to target North America because we don't usually spend a lot of time here and that's where the World Champs are," added Deen.
"We normally spend more time in Europe but this year has meant I've had the chance to spend some quality time on these tracks in Canada and the US. They've almost become second nature to me now and I feel like I've been able to iron out a lot of mistakes that I've been making her over the years. I've also been able to do that without a lot of pressure."
Lamin Deen was a World Cup regular in the last Olympic cycle
That added time on the far side of the Atlantic means Deen is in good spirits ahead of this weekend's racing, but it doesn't mean he's setting unrealistic targets for Lake Placid.
With a new 4-man crew of Ryan Letts, Tremyane Gilling and Toby Olubi and a year-long absence from World Cup competition, this week is about getting back in the groove, building a solid base and then peaking in Whistler come the start of March.
"Training's gone pretty well this week and I'm enjoying it but we're staying realistic.
"I've got the advantage of having already been here once this season but the ice temperatures have changed drastically from one end of the scale to the other so that's been quite challenging as a pilot.
"I'm hoping to really kick off my 2-man again because I haven't really done 2-man for a good few years. With the likes of Brad (Hall) and Bruce (Tasker) coming through as pilots on the World Cup, I haven't done it for a long time. It'll be good to get back into and that's actually what I'm what I'm looking forward to the most.
In the 4-man, I'm hoping to be in the top half of the field for this first race. I'm not expecting anything special as I'm not that naïve to think that it's all going to come right straight away with a new crew etc.
"This crew has never pushed together in a race before, but it's a strong team and I'm hoping to be starting within the top 10 sleds.
"They're my two aims. I see them as realistic goals and they'll give me something to take through into Calgary and into the World Championships."
RACE SCHEDULE:
Fri 15 Feb
Women's Skeleton 1.30pm
Women's Bobsleigh 6pm & 8.15pm*
Men's 2-man Bobsleigh 7pm & 9.15pm*
Sat 16 Feb
Men's Skeleton 2pm
Men's 4-man Bobsleigh 6.30pm
*1st run Women's Bobsleigh, 1st run 2-man Bobsleigh; 2nd run Women's Bobsleigh, 2nd run 2-man Bobsleigh
All times are GMT