Deas bags back-to-back top fives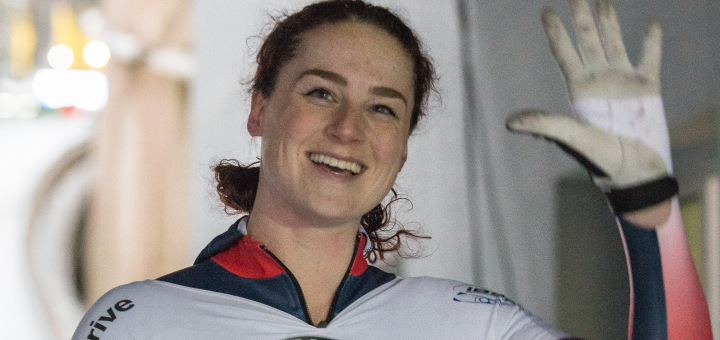 Great Britain's Laura Deas claimed her second successive top five finish as Olympic Champion Lizzy Yarnold placed eighth in the Women's Skeleton World Cup race in Park City, Utah on Saturday night.
Deas produced the joint quickest run of the day in Heat 2 as she moved up from seventh to fifth, just 16 hundredths of a second outside the medals in the second race of the Olympic season.
The 29-year-old, who was ranked sixth in last season's World Cup standings, now sits third in the overall rankings, with Yarnold joint 4th ahead of next weekend's race in Whistler, Canada.
"I'm very happy with how consistent my results are at the moment," said Deas, who is pushing for selection for her first Olympics in less than three months' time.
"Like last week, I left myself with some work to do in the second run but I was confident I could climb some spots if I slid how I had been in training.
I was very pleased to have the fastest second heat time along with a push PB because it shows what I'm capable of.
"I'm now looking forward to next week in Whistler as it's a track I've had good results on in the past."
After heavy snowfall saw the race postponed from the scheduled spot of Friday night, Deas clocked an overall time of 1 minute 40.88 seconds, with her second heat effort of 50.16 seconds only equalled by Russian race winner Elena Nikitina.
German duo Tina Hermann and Jacqueline Loelling - the 2016 and 2017 World Champions respectively - took silver and bronze, with Yarnold slipping back from fifth after the first run to finish with an overall time of 1 minute 41.31 seconds.
Fellow Brit Ashleigh Pittaway came within a whisker of making the cut as she placed 21st for the second week running. The 17-year-old Youth Olympic Champion clocked 51.37 seconds to finish just three hundredths away from a spot in the second run.
"Congratulations to Laura. Today was a tough day for me and not the result I wanted after a week's hard work from the whole team," said Yarnold.
"I've not been to Park City for four years so I had a lot to remember over six runs. It's a wonderful track to slide and I wish my result could have been better."
In the men's race, Dom Parsons placed 20th as South Korea's Sungbin Yun prevented Martins Dukurs from claiming his 50th World Cup win as he took gold in a time of 1 minute 37.32 seconds, some 0.63 seconds in front of Latvia's reigning World Champion.
Axel Jungk won bronze for Germany, with GB's Jerry Rice and Jack Thomas missing out on a second run after finishing in 24th and 25th respectively after recording times of 49.92 and 50 seconds dead at the 2002 Olympic track.
On the Europa Cup circuit, Brogan Crowley backed up Friday's gold medal in Winterberg with a bronze at the same track, while Craig Thompson and Ellie Furneaux were also on the wider podium as they finished fourth and sixth in their respective races.
World Cup (Park City, USA). Women's Skeleton: 1 E Nikitina (RUS) 1m 40.49s (50.33 & 50.16); 2 T Hermann (GER) 1-40.51 (50.29 & 50.22); 3 J Loelling (GER) 1-40.72 (50.48 & 50.24); 5 L Deas (GBR) 1-40.88 (50.72 & 50.16); 8 L Yarnold (GBR) 1-41.31 (50.53 & 50.78); 21 A Pittaway (GBR) 51.37