Deas aiming to better last year's Euros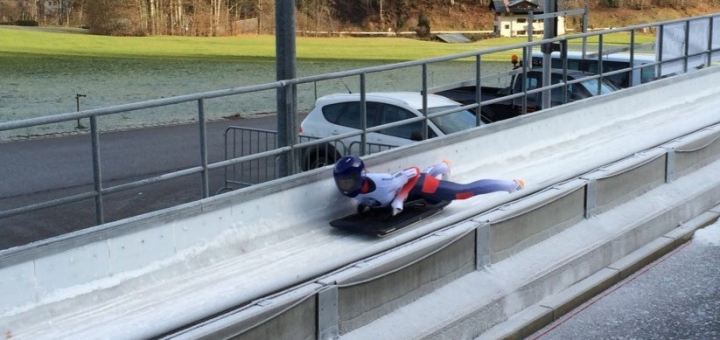 Laura Deas is looking to make up for the disappointment of missing out on the podium by the narrowest of margins last year by winning a medal at Friday's European Championships in Germany.
Deas finished fourth in last year's competition, just one hundredth of a second behind bronze medalist Janine Flock on the Austrian's home track in Igls.
The 30-year-old will now aim to repeat her Olympic success from South Korea 11 months ago when she joins five other British Skeleton athletes in the line ups for Friday's races in Konigssee, although she freely admits it will be far from easy in a highly competitive field and on a track that favours many of her closest rivals.
"I've always said that it's important to be consistently challenging for the top six and higher and I hope that will be the case on Friday," said Deas, ahead of a race that has a double incentive as it also counts as the fourth World Cup race of the season.
I want to improve on last week's eighth in Altenberg as we get closer to the World Championships in March. My previous best result in Konigssee is 10th so I know it will be a big challenge, but it's one that I am definitely up for.
"It was tough to just miss out on a medal last year and it would be great to change that this time. I feel in good shape but it's a really good field and the German sliders are always really strong here."
Kim Murray and Madelaine Smith join Deas in the women's race, with Jerry Rice, Jack Thomas and Marcus Wyatt going for GB in the men's competition.
Wyatt led the way for the Brits at last week's race in Altenberg when he recorded a career-best eighth in a 25-strong field at a track he had raced on only once previously.
That result moved the 26-year-old former American Footballer from Devon up to seventh in the World Cup rankings, with 2018 Olympian Rice 15th and Thomas 23rd in the standings.
In the women's rankings, the British trio are grouped tightly together, with Smith in 13th, Murray 16th and Deas in 14th after missing the season opener in Sigulda.
The men's race gets proceedings underway at 9am GMT on Friday, with the women's race scheduled for 12.30pm. Both races are live via the International Bobsleigh & Skeleton Federation website and YouTube channel.
Philippa Wellington also slides for GB this week in the Europa Cup (EC, not to be confused with the European Championships) competition in Altenberg. Wellington competes at 8am GMT on Friday and again at the same time on Saturday. Those races are No6 and No7 in the eight-race Europa cup calendar, with Wellington currently 12th in the EC rankings.
You can watch all the World Cup action via the International Bobsleigh & Skeleton Federation website and on their YouTube channel.
Friday, January 11th @ 9am GMT
Men's Skeleton: Jerry Rice, Jack Thomas, Marcus Wyatt
Friday, January 11th @ 12.30pm GMT
Women's Skeleton: Laura Deas, Kim Murray, Madelaine Smith
PLEASE NOTE THAT FRIDAY'S RACES HAVE NOW BEEN CANCELLED DUE TO ADVERSE WEATHER CONDITIONS.