Deas 7th, Parsons 10th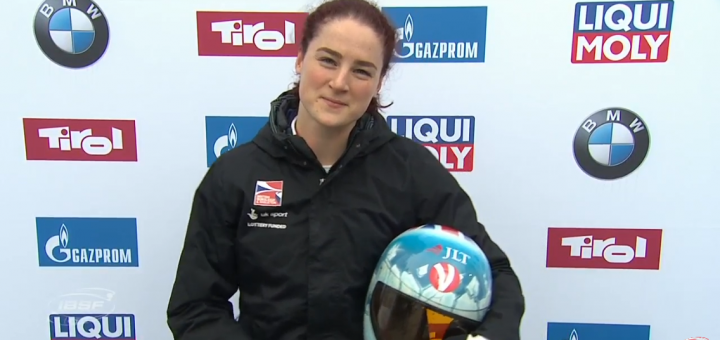 Laura Deas claimed the top British result in today's World Cup skeleton racing as she finished seventh in Igls, Austria.
Deas jumped up from 12th at halfway, with her second run good enough to win bronze had it been taken in isolation.
The Welsh slider clocked 54.22 seconds second time around – almost half a second quicker than her time from Run 1.
The result sees her stay seventh in the global standings ahead of next month's World Championships in Konigssee, Germany.
With Olympic Champion Lizzy Yarnold having a pre-planned rest weekend, Donna Creighton finished 16th in her first World Cup race of the season. Creighton won the overall bronze medal on the Intercontinental Cup circuit in late January and she recorded times of 54.95 and 54.85 seconds in today's two runs.
Germany's reigning World Champion, Tina Hermann, won gold ahead of Canada's Mirela Rahneva and home favourite Janine Flock.
In the men's race, Dom Parsons led the way for Great Britain with a 10th-place finish after clocking times of 52.86 and 52.79.
Parsons, who was fifth in the overall World Cup standings last season and 10th at the World Championships, is also 10th in this year's world rankings.
Dom Parsons was in the top 10 for the fifth time in seven races
Jack Thomas finished 19th, jumping a spot in Run 2 as he went almost half a second quicker second time around.
The 26-year-old produced the seventh fastest start time in Run 1 as he finished in the top 20 for the 5th consecutive race.
Latvia's Martins Dukurs took top spot for the third time in four races, with Alexander Tretiakov claiming silver and Sungbin Yun bronze.
Bobsleigh becomes the focus for the World Cup on Saturday and Sunday, with women's and 2-man action tomorrow at 10.15am and 1.45pm respectively before the 4-man draws the action to a close at 11am on Sunday.