Creighton swaps skeleton for bobsleigh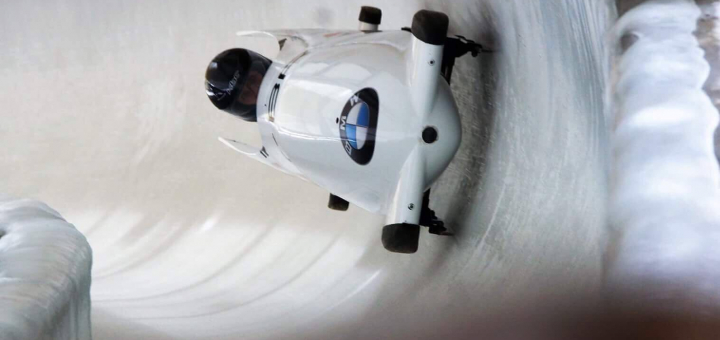 One of Great Britain's most experienced skeleton sliders has swapped one extreme sport for another after switching to bobsleigh this summer.

Donna Creighton spent 13 years as a skeleton slider, appearing at six World Championships, winning the Intercontinental Cup crown and picking up World Cup podium places along the way, but she has now set her sights on a fresh challenge - one which very few have attempted before her.
The 31-year-old could have opted for an easy life after stepping away from the skeleton programme at the end of last season but instead she has chosen to up the ante, increase the speed and start from scratch by learning to pilot a bobsleigh just months out from the next Winter Olympics in South Korea.
She admits it won't be an easy ride but insists she didn't have to think twice about a change in career.
"I've always had an interest in bobsleigh and I didn't need much time to sign up for what I know is a big, big challenge," said Creighton.
"I've always been drawn to it and, over the years, there's been a few little jokes about coming over and trying it as I have a powerful speed background from being a quick starter in skeleton.
I still have that urge to continue representing the country to try and fulfill that Olympic dream, as that's what's missing from my skeleton CV.
"I'm all for grasping hold of opportunities and making the most of them and, if I hadn't given this a go, I think I would have been questioning myself a few years down the line."
Driving a bobsleigh is very different to steering a skeleton sled
There are a large number of obvious differences between the two sports but Creighton hopes her wealth of experience with GB Skeleton will give her the perfect platform to progress as the path to Pyeongchang picks up pace.
"The training is similar away from the ice and you slide down the same tracks but there are some big differences and it took me a few weeks to get used to running upright again!" added the former heptathlete, who is used to sprinting bent over from her time in skeleton.
"This is a completely different experience from trying skeleton as a novice 13 years ago. Back then when I tried skeleton for the first time, I was literally just lying there, trying to stay still and hoping for the best! With bobsleigh, I obviously had to steer from the very start.
"I'm now able to see a lot more as I'm sat upright rather than lying flat on a sled and I now steer with my hands rather than my shoulders and my knees. That's the major difference and that means it's now all about feeling through your hands as opposed to all through your body. You have to assess how the forces, pressures and vibrations react in a different way.
Having that experience in skeleton definitely helps, though - knowing the tracks on the circuit inside out is a huge benefit to me.
"That's probably the biggest advantage: knowing where the oscillations happen within the corner, knowing where that pressure will be coming on, and being able to react to that to build as much speed as possible. The knowledge of what to do within the corners definitely helped me pick things up quicker than others might."
Donna was the longest serving slider within the GB Skeleton squad
Another key factor to ensuring Creighton enjoyed a flying start to her new sport is the family feel she experienced within GB Bobsleigh.
Creighton knew many of the team from her days with GB Skeleton but the way in which she's been welcomed into the fold has been a major plus.
"We are a team at the BBSA but we are still separate performance groups. We see a lot of each other and support each other but I didn't know any of the bobsleigh team in the same way that I knew everyone in skeleton.
The welcome I've had has been awesome. They've welcomed me with open arms. That's the coaches and the staff as well as the athletes and I've definitely been made to feel part of the family straight away.
"When I went out to La Plagne for my first week on ice in March, they all made me feel very much at home. It was quite nerve wracking coming into a new sport, especially as there was an element of expectation given that I'd already been a skeleton athlete, but they made it very easy. More than anything, they made it immediately enjoyable.
"That's really important as I'm not just competing on my own anymore - I have someone else I have to worry about in the back of the sled and if I crash, it's not just me that's affected, it's someone else as well.
"That team element really excites me and I think it'll bring out the best in me. You need to build those bonds. Creating that team spirit is a huge thing in the sport and I've been really impressed so far."