Coy-Martin leads search for young bobsled stars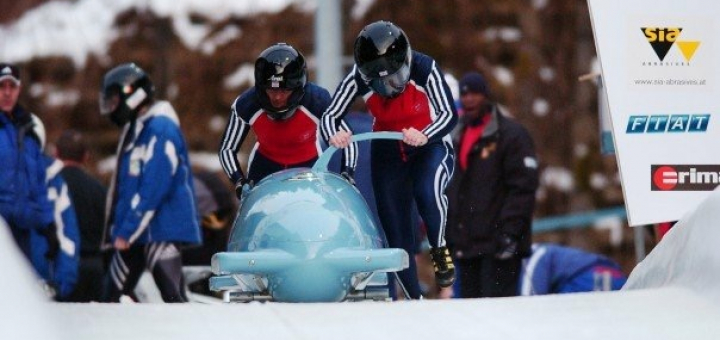 British Bobsleigh have begun the search for the next Youth Olympic Champion and have appointed one of the country's most successful female sledders to lead the quest.
With the next Youth Games set for 2020 in Switzerland, new Youth Team Manager Michelle Coy-Martin will be looking to help the team build on an impressive record that has seen them win medals at both previous instalments of the competition in 2012 and 2016.
British Champion on six occasions and twice a runner up in the overall World Cup series, Coy-Martin began her life in bobsleigh through the RAF after watching the Albertville Olympics in 1992. She stepped up to international competition in 1993 and was on the podium for an incredible 23 consecutive races from just her second season onwards.
She finished 11th in the first-ever women's Olympic bobsleigh competition in Salt Lake City in 2002 and then, after retiring as an athlete in 2004, featured as a coach for Team GB at the Vancouver Games in 2010.
Having left the RAF as a Sergeant after 26 years' service in 2017, she now works for SAFRAN Helicopter Engines UK but has continued her strong support for bobsleigh in Great Britain as a member of the British Bobsleigh & Skeleton Association Membership Committee and as a coach on Armed Services Novice Camps.
"As a true supporter of British Bobsleigh, I believe Michelle is a great choice for this role with the team going into the Lausanne Youth Olympics in two years' time," said British Bobsleigh's Head Coach, Lee Johnston, who himself led the youth programme in 2012 and 2016.
I have known Michelle since I started bobsleigh and I have nothing but admiration for her, both as an athlete and as a person. She was an excellent pilot and has always been highly professional on and off the ice.
"She has been there and done it all and is hugely respected within the sport. Her passion for bobsleigh is obvious and she already has significant coaching experience, both inside and outside of the Armed Services.
"Having been in a similar position to Michelle when Gary Anderson (former Performance Director) and I first started the youth programme eight years ago, I know that it will also be a fantastic opportunity for Michelle. She will have my full support and I am hopeful it may lead to her involvement at a senior level in years to come."
Michelle Coy-Martin has 25 years' experience in bobsleigh
Coy-Martin will begin her new voluntary role immediately and will now turn her attention to recruiting 14, 15 and 16-year-old boys and girls capable of following in the footsteps of previous Youth Olympic medalists Mica McNeill (silver 2012) and Kelsea Purchall (bronze 2016).
"I'm thrilled to have been asked by Lee Johnston to take up this position as Youth Team Manager," said Coy-Martin.
"I have some big shoes to fill and am looking forward to carrying on from where Lee Johnston left off.
"Sharing the same passion and vision for the sport, we will utilise our experience and knowledge to work together to achieve a clear goal: Youth Olympic gold in Lausanne 2020."
Did you know?
British Bobsleigh athletes were ranked Nos 1, 2 and 3 in the female youth world standings prior to the last Olympics, while their male counterparts were ranked Nos 1, 3 and 4.
Great Britain dominated youth bobsleigh podiums in 2015 and 2016
Could you be a future bobsleigh star? We are looking for…
• 14, 15 or 16 year olds (athletes must be born between January 1st 2002 and 31st December 2005)
• Boys over 5'8" and girls over 5'6" in height
• Boys who weigh more than 80kg and girls over 67kg
• Boys who can sprint 30m in under 4.05 seconds with a 1 metre roll in and girls who can do the same in under 4.25 seconds
• Boys who can standing long jump more than 2.7 metres and girls who can jump more than 2.3 metres
For more information on how you, or someone you know, can get involved in the Youth programme, please email michelle.coy@olympian.org
Trials take place on Saturday, June 23rd and Saturday, July 21st at the University of Bath. (Please note, trials are by invitation only so please contact Michelle beforehand.)