Celebrations all round at Awards Dinner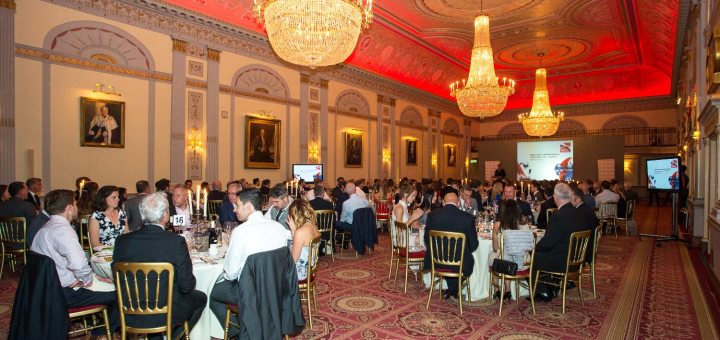 The 2017 Athlete Awards Dinner featured celebrations for a number of star performers across the GB Bobsleigh and Skeleton programmes.
The annual event, which was held at Plaisterers' Hall in London yesterday, saw athletes, coaches, support staff and sponsors come together to celebrate a season in which British sliders secured a total of 26 medals, 59 podium places and 118 top ten finishes across just five months of racing.
Maddy Smith took the Skeleton Athlete of the Year Award after winning back-to-back North American Cup gold medals in January 2017, despite having only had six competitive races to her name prior to those successes in Park City. After switching to the Intercontinental Cup circuit in the latter part of the season, she continued her substantial progress with three top-seven finishes in four appearances and she will now look to kick on ahead of next year's Winter Olympics in Pyeongchang and the 2022 Games in Beijing.
The Bobsleigh Team of the Year Award went to Sam Blanchet, Greg Cackett, Brad Hall and Bruce Tasker following their fine showing in the Olympic Test event in Pyeongchang in March. With just a few practice sessions together under their belt ahead of the final race of the season in South Korea, they placed eighth in a hotly contested World Cup race, finishing just 15 hundredths of a second outside a medal despite a disadvantageous start draw.
They held the start record at the Olympic track for a large section of the race and the second of their two runs was the joint fifth fastest as they headed home having shown that GB can be well and truly in the medal mix when Pyeongchang hosts the sport's showpiece event in eight months' time.
Greg Cackett, Bruce Tasker, Sam Blanchet, Brad Hall - Bobsleigh Team of the Year
Jerry Rice was named the Skeleton Breakthrough Athlete of the Year after claiming the overall Intercontinental Cup crown, while Cackett claimed the equivalent Bobsleigh award having made it into the GB1 4-man crew at the World Championships just two months after his first run in a bobsled.
Maddy Smith and Jerry Rice took the Skeleton honours at Plaisterers' Hall
Bruce Ropner, a long-standing supporter of British Bobsleigh and the BBSA, was recognised for his remarkable contribution to the sport. Unsurprisingly, Bruce, who won the British Championships in 1962 and was made an OBE in 2013, was given a standing ovation at the city centre venue.