Cackett keen to kick on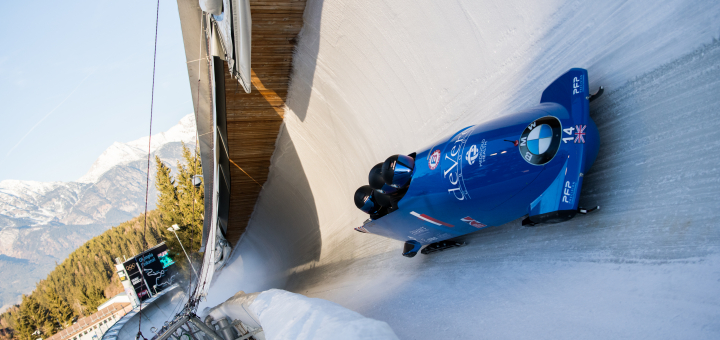 Greg Cackett says it's now time to kick on from last week's superb showing in La Plagne as he and his bobsleigh team mates get set to race in Igls this Saturday and Sunday.
Pilot Brad Hall and brakeman Cackett secured the country's best World Cup 2-man result since the 1990s when they finished fourth in France last Friday and they then bagged another 4-man top ten finish 24 hours later alongside Luke Dawes and Taylor Lawrence.
They're now ready to go again in Austria for the fifth stop on the World Cup circuit and confidence is high according to the PyeongChang Olympian. 
"Brad's driving really, really well. When we're at the start line, we have that confidence that, if we do our job right, he's going to do the rest," said Cackett, who has just returned to the sport after a spell in cycling.
"He's growing in stature every race and the rest of us feed off that. It's a great feeling to have.
"The kit's working well, too, and that obviously adds to that confidence. It's all part of the package and it gives you a bit more freedom to concentrate on getting the push right rather than worrying too much about whether the sled's got the right pace or the driver's in a good place.
La Plagne was a great weekend for us. The 2-man result was obviously pretty special and for the two new lads (Luke and Taylor) to be getting top tens in the 4-man so early on is really promising.
"Now we want to kick on from that. We're not putting too much pressure on ourselves but we want to build on last week to keep the feel good factor going."
Results play a big part in that feel good factor but how things play out off the ice is just as important in a sport where crews live in each other's pockets and have to do a lot of unseen dirty work away from the race track.
It often takes time to build that bond but things have moved quickly for Cackett and co despite the fact that he's had two years out of the sport, Dawes is in his first year of international sliding and Lawrence only joined the team after Christmas. 
"The key thing is that we're really enjoying our sliding," added Cackett. 
"We're enjoying our training and we're enjoying how we're living out on circuit.
We've only been together a short time as a crew but we get on well, we work together well and we seem to be able to bring the best out in each other.
"We want to improve our start times as we get more cohesive as a unit but that's a pretty strong foundation to start sliding fast from."
Last week's 2-man result was GB's best this millennium
Hall and Cackett return to the start line this Saturday when they compete in the 2-man event in Austria from 1pm. They then link up with Dawes and Lawrence just under 24 hours later when they go again in the 4-man from 12.30pm on Sunday.
Lamin Deen also leads crews in both the 2-man and the 4-man this weekend, with Mica McNeill piloting the women's sled at 9am on Sunday.
Race Schedule
Sat 18 Jan
Women's Bobsleigh 9am GMT
Men's 2-man Bobsleigh 1pm
Sun 19 Jan
Men's 4-man Bobsleigh 12.30pm
You can watch all the World Cup action via the International Bobsleigh & Skeleton Federation website and on their YouTube channel.
We'll provide updates from the rest of the races via our own social media channels and we'll post a round up of the results once they've come in.