Brown pleased with pilot progress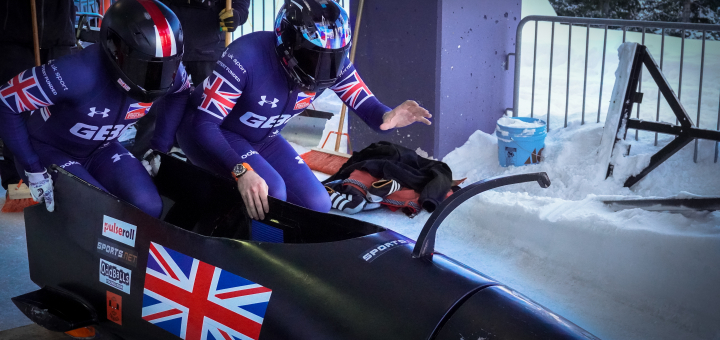 New British bobsleigh pilot Axel Brown has described his debut driving season to date as a solid step in the right direction.
Brown first competed for his country as a brakeman on the Europa Cup circuit in 2016 but has now made the move to the front of the sled in the hope of taking his sliding career to the next level.   
The 27-year-old, who made his World Cup bow as a brakeman on the eve of the PyeongChang Olympics in January 2018, completed all eight races on the North American Cup circuit and he's happy with the progress he and his crew have made.
"Overall, we are pretty pleased with the way things have gone over the past three months," said Brown, after he placed fifth in the final NAC rankings.
There have, of course, been trying times, but completing the NAC was always somewhat of a "proof of concept" that this team can work efficiently and effectively together and can have success in the future.
"In that sense it certainly seems to be mission accomplished so far."
Axel Brown's crew have been racing on the NAC circuit 
Brown lost Adam Hames to injury early on in the season but linked up with Marcus Urbanski for the first five races in Lake Placid and Park City, before Chris Winrow stepped up for the final three slides back in Placid.
"The main goal of the last eight races has not necessarily been to get results or be in medal contention, it was, and always has been, to gain experience as a team on and off the ice. 
"We wanted to get incrementally faster in the sled but, perhaps just as importantly, to perform professionally and responsibly on the international circuit while representing Great Britain.
Of course, there have been trials and tribulations, and it was never going to be easy. However, it's important for us to focus on how far we have come as a team, and how much potential there is in this small group of athletes. 
"We are all extremely proud of putting in eight complete races and, while the competitors within us strive to be faster and even more competitive, we have to take pride in how far we have come in such a short period of time on a small budget and with rented equipment."
Brown and co now head to Austria for the last leg of the Europa Cup circuit in Igls on January 30.
Their first foray into EC competition will be their final racing involvement of the current campaign but they intend to continue their development by training out on ice for the rest of the winter season.