Brits finish eighth in Moritz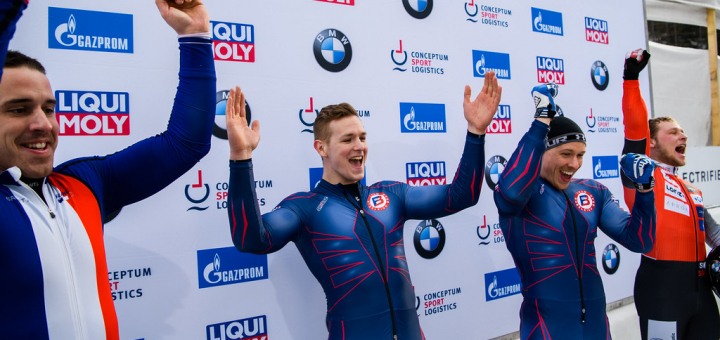 Brad Hall and Greg Cackett finished eighth in their latest World Cup 2-man race on Saturday, with Mica McNeill and Montell Douglas securing the same position in the women's race.
Hall sat 14th at halfway in St Moritz but jumped up six spots with a much improved second run.
The result was the first time he and Cackett have missed the top six in their four 2-man races this year but it came in a new sled that the pair had never raced in prior to this event at the home of sliding sports.
A combined time of 2 minutes 15.58 seconds featured a second run nearly half a second quicker than their first as they spent an extended time in the leaders' box in Switzerland.
Johannes Lochner took gold in his first 2-man race of 2020 as compatriot Francesco Friedrich was beaten for the first time in five races. World Championship silver medallist Oskars Kibermanis won bronze for Latvia in the penultimate World Cup race of the season.
McNeill and Douglas clocked a combined time of 2.18.05 in the women's race as they improved on last week's showing in Konigssee by four places.
Having missed the race in Igls a fortnight ago through injury, the British pair sat sixth at halfway before a slower second run saw them slip back two spots in the final standings.
Mica McNeill & Montell Douglas were eighth in Moritz
Kaillie Humphries made it back-to-back wins as she claimed her fourth victory in seven races since switching allegiance from Canada to America.
Olympic Champion Mariama Jamanka finished second, with German team mate Stephanie Schneider third for the second week running.
Sunday's four-man race saw Hall, Cackett, Luke Dawes and Taylor Lawrence drop out halfway through proceedings after Hall suffered a back injury.
Having been 18th at the end of the first run, a back spasm prevented Hall from taking to the ice for Run 2.
The World Cup circuit takes a break this weekend, with the final race of the top-tier competition scheduled for Sigulda the following week.