Brits all set for World Cup return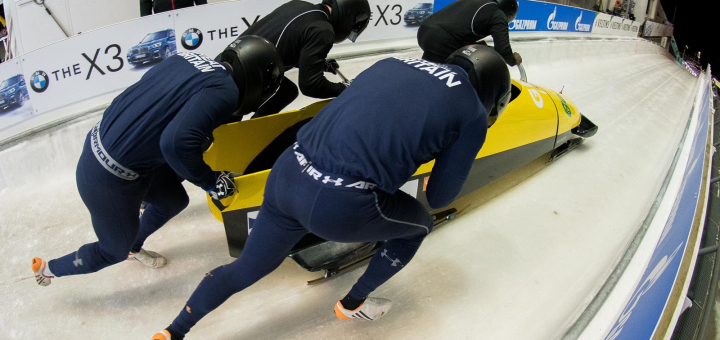 The first World Cup race of the new decade begins today as Lamin Deen and Brad Hall pilot British crews in the 4-man bobsleigh in Winterberg.
It's also the first World Cup race of the season for Deen and Hall after they spent the early weeks of the campaign on the Europa Cup circuit instead of heading out to North America last month.
The German track hosts a double header of 4-man action today and tomorrow, with Mica McNeill scheduled to race in the women's bobsleigh on Saturday, before the British Skeleton team take centre stage on Sunday.
Deen will team up with fellow double Olympian Ben Simons, World Cup debutant Olly Butterworth and Ryan Letts today, with Tremayne Gilling taking over from Letts on the back of the sled tomorrow.
Hall has seen his team heavily hit by injury in recent weeks, with 2018 Olympian Sam Blanchet and regular starter Alan Toward both sidelined for the foreseeable future.
Rookie GB breakman Taylor Lawrence has stepped into the team at short notice, while Luke Dawes has taken on added responsibility in his first season on circuit. Greg Cackett returns to the team for the first time since the PyeongChang Games 23 months ago, though, in what is a major boost for Hall and co and for the GB Bobsleigh programme as a whole.
"We can't wait to get competing on World Cup now," said Cackett. "The first part of the season was blighted by injury for the boys. That meant we couldn't make some races and couldn't pick up points in others.
We've brought out a rookie brakeman in Taylor and he's done so, so well this week: we've thrown him in and he's done brilliantly. He'd never pushed on the left handle before so the race will be just his sixth ever attempt on it. He's an absolute unit, though, and we're really looking forward to racing with him. 
"Luke Dawes is also brand new to the team but, because of the injuries and having to bring in Taylor at short notice, Luke has had to elevate himself as if he's got more experience than he has and he's really stepped up. 
"We know it's a rookie crew so we've had to alter our expectations but we're hopeful for this weekend. We're seeing this season as a development one now in the 4-man but we'll be doing our best to make the most of the situation."
Greg Cackett is back on World Cup duty with Brad Hall's crew
Deen and co enjoyed a smoother start to the new campaign as they kept their five-man team largely injury free and picked up a number of wider EC podium places pre-Christmas. 
They know that this week will give them an idea of where they stand compared to the world's best, though, and they're looking forward to testing themselves back on the top circuit.
"It feels like it's been a long time coming so we're keen to get started again on the World Cup," said Deen, who piloted GB to a stunning World Cup silver medal two seasons ago.
We haven't set ourselves any specific targets - it's just about seeing where we stand up against the rest of the world.
"That will give us a good idea of what we have to work on going forward to next week in La Plagne and then to Igls the week after.
"This is one big test for us, really. It's a bit of an unknown at the moment because we haven't raced World Cup yet, but training's been going well and we've got new equipment to play with. We can't wait to race now."
Today's 4-man race begins at 1.30pm GMT, with Hall starting second of 22 sleds and Deen 19th off the top in Heat 1.
Tomorrow's 4-man race is scheduled for 12.40pm, with McNeill and Montell Douglas kicking things off at 9am.
The men's skeleton starts at 9am on Sunday when Jerry Rice, Craig Thompson and Marcus Wyatt go for GB and the women's race, featuring Laura Deas and Ashleigh Pittaway, begins at 1pm.
Race schedule
Fri 3 Jan
4-man Bobsleigh 1.30pm GMT
Sat 4 Jan
Women's Bobsleigh 9am 
4-man Bobsleigh 12.40pm
Sun 5 Jan
Men's Skeleton 9am
Women's Skeleton 1pm
You can watch all the World Cup action via the International Bobsleigh & Skeleton Federation website and on their YouTube channel.
We'll provide updates from the rest of the races via our own social media channels and we'll post a round up of the results once they've come in.