British quartet set for Monobob start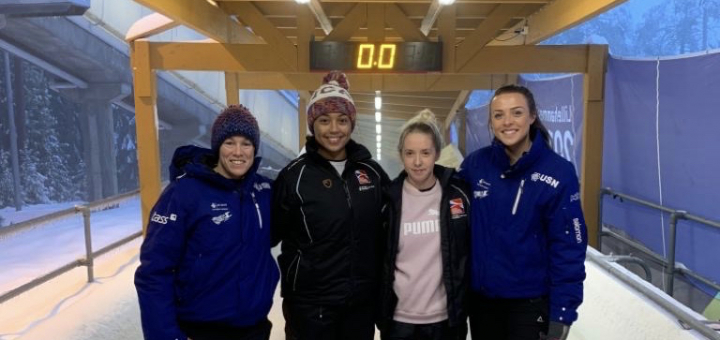 The first European race of the senior season starts on Wednesday when the women's monobob competition begins in Lillehammer.
Great Britain will have four representatives in Norway in what is a brand new discipline for the sport after it was added to the schedule for the 2022 Olympic Winter Games in Beijing in July last year.
Felicity Bee, Issy Burke, Jo Ellett and Rebecca Hannibal will be making their international debuts having earned selection for the monobob programme earlier this autumn.
"This is the start of a long journey but I'm excited by the potential these women have and am looking forward to seeing them take the next step in their development tomorrow," said Team Manager and Ice Coach, Lee Johnston.
"The team have been here in Lillehammer for just over a week now and have had six days of international training within that period. They've completed almost 80 runs between them, and they've done that without any major incidents or crashes, which is great for their confidence.
They have a range of different experience levels within the sport but they've all made significant progress since we arrived here. 
"Jo has had previous experience in the Army Bobsleigh programme, having been a brakewoman and also a 2-man pilot, but monobob was very new to her so we needed to take her right back to basics.
"Issy had never seen a monobob or a bobsleigh on ice until 12 days ago and her learning curve has been huge. She now has a really good grasp of the basics and has completed the most runs of all four British women.
"Felicity was in La Plagne in March on the last IBSF training school so she had some knowledge of what to expect. She is studying to be a doctor, though, and had an exam on Monday so was unable to take advantage of the first three days of training as a result.
Rebecca was part of the Youth Olympic Games programme and narrowly missed out on selection to that group. She then tested for this opportunity and has posted a personal best every day since she started here. 
"The result of tomorrow's race isn't the most important thing as this is a long process for all of them but it will be good to see how they perform under race conditions because dealing with that added pressure is all part of their development."
The race is one of eight monobob competitions scheduled for the season, with the Brits planning to compete in the four European based events in Lillehammer, Konigssee and La Plagne (twice).
Britain's No1 ranked women's bobsledder, Mica McNeill, who will be competing on the Europa Cup circuit until Christmas and then World Cup in the New Year, also plans to race on the monobob circuit later this season.
The North American leg of the mono-bob series kicked off in Lake Placid earlier this week, with Canada's Cynthia Appiah taking gold ahead South Korea's Yooran Kim and Australia's Ashleigh Werner.
Tomorrow's race begins at 9am GMT and results will be posted here and on our social media channels.