British Bobsleigh's road to Beijing in need of private backers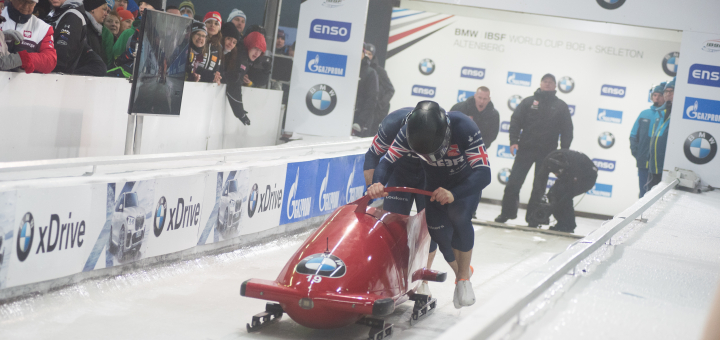 The British Bobsleigh teams will no longer receive funding from UK Sport for their campaign to represent the country at the next Olympic Winter Games in Beijing in less than three years' time.  
This means that, if Great Britain is to have a Bobsleigh presence alongside it's sister team of Skeleton at the Winter Olympics in 2022, athletes and coaches will have to either fund themselves or find private money to continue to compete.  
Joanna Poulton, Chair Designate of the governing body which overseas both sports, the British Bobsleigh & Skeleton Association (BBSA), said, "We are deeply disappointed that a significant sport such as Bobsleigh will no longer be funded by UK Sport.  Although we were aware following last year's funding review that Bobsleigh might not be supported through to Beijing, we had hoped that our results this year would ensure some sort of further support. 
"We believe we have good medal prospects, not just for Beijing 2022 but also for 2026 and beyond. However, UK Sport made it clear to us what we had to do to retain funding and, if we have fallen short, then we must accept that."
GB's 2-man team of Brad Hall and Nick Gleeson finished fourth at the World Championships in Whistler less than a month ago - a result equalled the nation's best World Championship 2-man result for more than 50 years.
The women's team led by Mica McNeill continue to make similarly significant progress, posting a career best fourth-place finish at a World Cup race in January, less than 12 months after recording the country's best female finish at an Olympic Winter Games. Mica was only outside the top 10 once in World Cup competition all season and has repeatedly shown that she is one of the leading drivers in the world.
The team achieved these successes on transitional funding of circa £350,000 and the BBSA will now continue to seek out numerous partners to help raise a similar tally to support the team next season. 
"British Bobsleigh has a long history of participation and success at elite level and we will now focus all our efforts on finding sponsors and donations to ensure that we have teams on the ice representing GB next winter and through to the Beijing Olympics," said Joanna.
"We will be doing everything we can to ensure the team can get to China - especially as we believe they can be in the mix for medals if they get there - and we would love to hear from companies and individuals who share that desire and that belief in this team."
"Bobsleigh is a great sport with huge entertainment appeal. It requires athletes of the highest physical standard and is a true test of physical and mental skill befitting an Olympic sport," said British Bobsleigh's Performance Director and Head Coach, Lee Johnston.
"I have seen some real success stories during my 25 years in bobsleigh and I believe the current crop of athletes and coaches have the ability to add to those.
"We are on an upward trend and we have achieved some hugely impressive results over the last two seasons and I am convinced that both our male and female athletes are true medal contenders for Beijing 2022." 
Anyone who would like to play their part on the path to Beijing is encouraged to contact the British Bobsleigh team via email at office@thebbsa.co.uk or call 01225 384343.
British Bobsleigh milestone achievements in season 2017/18 and 2018/19:
March 2019: joint best 2-man World Championship result since 1953 as Brad Hall and Nick Gleeson finish fourth in Whistler
January 2019: Hall and Gleeson secure GB's first 2-man top-six finish at a World Cup event for 13 years in St Moritz - their third PB in as many races
January 2019: Mica McNeill and Montell Douglas finish fourth in the Altenberg World Cup - a race they led at halfway
November 2018: McNeill wins four gold medals in as many races on the North American Cup circuit
February 2018: McNeill and Mica Moore finish eighth in PyeongChang - the best result for a British women's bobsled team in Olympic history
November 2017: Lamin Deen leads his 4-man team to World Cup silver in Whistler - a result that could yet be upgraded to gold
November 2017: Hall pilots his 4-man crew to World Cup bronze in Park City - a first men's World Cup medal since 2013. The race also saw Deen's crew finish in the top six - the first time two British crews had achieved this feat for two decades.