British best for McNeill & Moore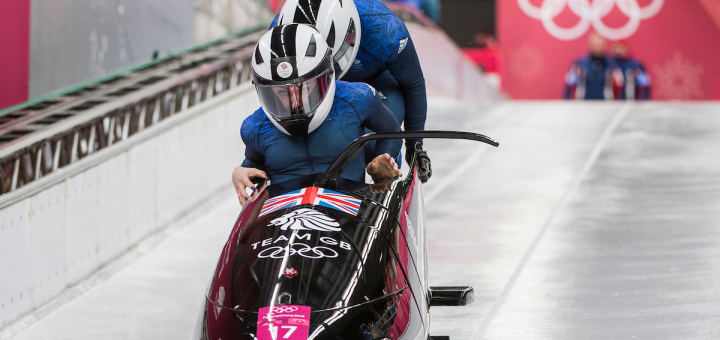 Mica McNeill and Mica Moore secured Team GB's best-ever Olympic result in the Women's Bobsleigh as they placed eighth in PyeongChang on Wednesday.
McNeill and Moore finished one spot higher than Nicola Minichiello and Jackie Davies did in Turin in 2006 - the second Games at which a female bobsleigh competition had taken place.
The British pair sat sixth overnight following a fine start to the showpiece event yesterday when they posted times of 50.77 and 50.95 seconds in Runs 1 and 2.
They fell back to eighth after clocking the 11th fastest time of 51.16 seconds in Run 3 but they maintained that position as their final run time of 51.19 was the seventh quickest of the heat.
McNeill, a Youth Olympic silver medalist from 2012, and Moore, a Welsh international sprinter who competed in the 4x100m relay at the 2014 Commonwealth Games, finished ahead of a whole host of more experienced teams at their maiden Winter Olympics.
Mariama Jamanka won gold for Germany alongside Lisa Buckwitz, with Elana Meyers Taylor taking silver for the United States for the second successive Games. 2010 and 2014 Olympic Champion Kaillie Humphries finished third, with McNeill and Moore 1.18 seconds from a bronze medal.
Mica McNeill and Mica Moore were eighth at their maiden Games
"It feels amazing. We are so happy," said McNeill, who was crowned World Junior Champion with Moore in Winterberg 13 months ago.
"We're buzzing about that result. We deserved to come here and we knew we could kill it. We have come away with eighth which is more than we could have ever hoped for.
"There's things I am always going to be picky with: we were in the mix yesterday, but I'm not comfortable on this track and I made a couple of mistakes. But we have to be happy with that!
We've got four more years now to come back and be in contention for some medals. We want to go to Beijing 2022 and absolutely smash it.
"We've got four years to work on consistency, to get faster at the start and for me to improve my driving skills."
"To have come eighth and made history with the best finish for Team GB in women's bobsleigh is absolutely incredible," added Moore.
"We're very determined. We are so determined to improve. Don't put anything past us."