Brad boosted by 2-man PBs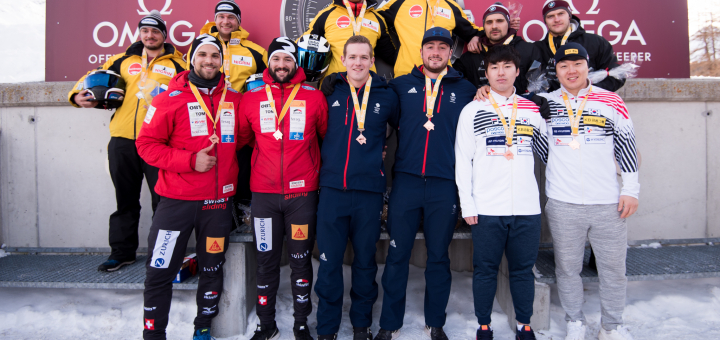 Brad Hall believes he's on the right path to challenge the world's best 2-man pilots after securing his first top six showing in St Moritz on Saturday.
Hall won World Cup bronze in the 4-man event in Park City in November 2017 but had yet to break into the globe's top 10 in the 2-man discipline before the New Year.
With British Bobsleigh's 2-man sleds not giving Hall the edge every athlete hopes for, and knowing the programme's UK Sport transitional funding is ring fenced for the 4-man and the women's team this season, it looked as though the 2018 Olympian would struggle to be truly competitive in 2019.
But a rented sled, three personal bests and a first wider podium finish later and the 28-year-old former decathlete is now looking in good shape to give the rest of the world a run for their money when the World Championships take place in Whistler in just over a month's time. 
"It's been an incredible few weeks having the opportunity to rent and race in world class sleds," said Hall, who drove absent Austrian pilot Benny Maier's sled in Igls and Moritz. 
"Before our first race in a rented sled, Lee (Performance Director, Lee Johnston) said that we have no excuses now as our equipment has been proven to do the business before, but for the last three weeks we haven't needed any excuses at all. We've produced our three best 2-man performances and we've progressed a bit more each week.
Finishing sixth in a quality field is definitely very encouraging for the future. We know we don't have much consistency in terms of using the same sled but we've shown we've still got the ability to get close to the top.
"I'm making good progress with my driving and I'm in a good place at the moment - I feel like I'm getting better with every run. We've set up a fund with Pledge Sports to try and raise the money to rent a top sled for Whistler and, if that comes off, I do reckon we can be in the mix in March."
Nick Gleeson & Brad Hall have had plenty of reasons to smile this month
As well as competitive equipment and Hall's continued progress behind the D-rings, the team's impressive start times are making a major impact on their chances to compete with the likes of the Germans, Latvians and Canadians.
Only three teams were quicker at the start in St Moritz and the Brits are no flash in the pan there, either.
They were fifth in start times in both heats in Igls the previous week and fourth and joint third in Konigssee the week before. In both those races they produced starts that differed by just one hundredth of a second between runs and Hall knows that consistency could be key come the World Champs.
"Nick and I are pushing consistently and that gives me a lot of confidence as a driver," added Hall.
When you know you've got a good start, it helps you relax and get into a rhythm with your driving as you don't feel like you're already way behind the eight ball before you've got to the first corner.
"We're enjoying working together as a team and we feel like we're making progress every week on our starts. It'll be a real focus for us to keep that up between now and the Worlds as we both know that's giving us a good chance to compete."
STAT ATTACK
Hall and Gleeson's result in St Moritz was GB's first World Cup 2-man top six for 13 years.
Performance Director Lee Johnston was the last man to achieve the feat in Altenberg on January 28th, 2006.