Bobsleigh to start WC season in Winterberg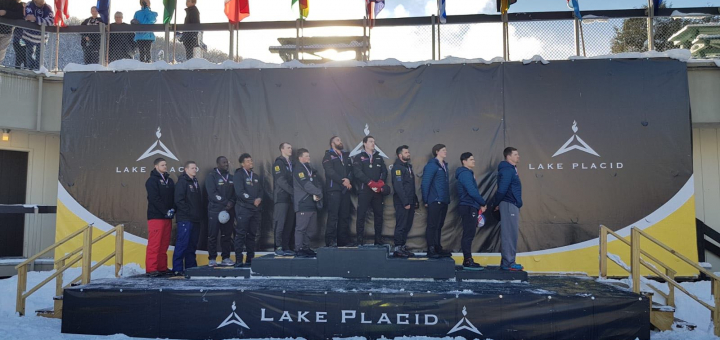 British Bobsleigh athletes have enjoyed a strong start to the season in North America but their calendar doesn't see them head to Latvia for this weekend's World Cup opener.
The team have won 10 medals in three venues on their five-week tour of the USA and Canada, with a further 10 wider podium places to their name on the North American Cup (NAC) circuit.
But, with their focus on getting preparation right for the World Championships in Whistler in four months' time, their first World Cup outing will be in Winterberg on the weekend of December 14th.
"We took the decision not to travel to Latvia for this weekend's races as we have to look at the bigger picture," said Head Coach, Lee Johnston.
"While we would obviously like to be there in a perfect world, our focus this year is on performing to our potential at the World Championships in Whistler in March. There's no point pulling any punches - we know that this is where we will be judged.
Because of that, we felt we would be best served by spending time in North America at the start of the season. We got useful track time in Whistler pre-season and then it made sense to use the next few weeks competing there and then in Park City and Lake Placid.
"We raced in Placid at the weekend and we only returned to the UK on Tuesday. Getting out to Latvia in time to prepare properly would have been difficult but that's not the only reason we decided not to travel: our transition funding from UK Sport covers the women's team and a 4-man crew but there won't be any 4-man races in Sigulda. It's a double 2-man race so we all took a collective decision to take a few days' rest.
"Mica (McNeill) has had a great start to the season with four gold medals in her last four NAC races in Park City and Placid so she's built up some good ranking points. That means that she can afford not to head to Latvia and can get ready for a big effort in Germany instead."
The women's team have won their last four races 
Johnston has been pleased with what he's seen so far from his team this season as all three of his pilots featured on the podium in Park City and Lake Placid.
McNeill, who achieved the country's best-ever women's Olympic result in PyeongChang in February, won four successive races with Montell Douglas and Aleasha Kiddle, while Lamin Deen won two silver medals and the same number of bronze and Brad Hall picked a silver and bronze of his own.
"It's been a really solid start to the season," added Johnston.
"The women were outstanding in Park City and Placid and they've done what they set out to do in some style. Mica's been driving really well and both Montell and Aleasha have played their part. 
"The men have done well, too, in both the 2-man and 4-man and they'll take a lot of positives forward for the rest of the season. Brad and Lamin have been consistent in both disciplines and they've got a lot of ice time after a long summer. 
I've been really impressed with how the teams have gelled together, too. We've had a number of changes after the Olympics but there's a real collective feel in the camp.
"Axel Brown, Adam Hames, Ryan Letts and Alan Toward only had a handful of senior races between them prior to November but they've all stepped up to the plate and shown they can make a big contribution moving forward."
McNeill and Hall will travel to Winterberg at the beginning of next week for the second race on the World Cup calendar and the pair are scheduled to then compete in all six WC events before the World Championships in Canada.
Deen and his crew will take a well earned break for Christmas before heading back out to Calgary for the final instalment of NAC action in the New Year. The 2014 and 2018 Olympian then plans to join the North American leg of the World Cup campaign prior to the Whistler World Champs.