Top 10 for Smith in Sigulda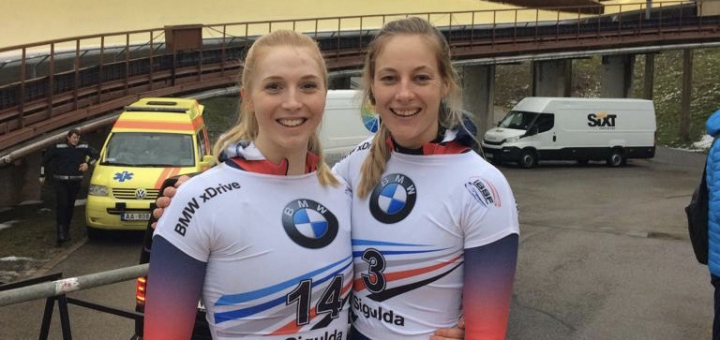 The opening World cup event of the skeleton season saw a top 10 finish for Maddy Smith and a first-ever top level appearance for Kim Murray.
Smith finished 10th in the women's race in Sigulda on Sunday, with Murray 13th in the same competition, as the World Cup returned to Latvia for the first time since 2005.
In the men's competition, Marcus Wyatt led the way for Great Britain in 12th, ahead of PyeongChang Olympian Jerry Rice in 13th and Jack Thomas in 19th.
Smith's effort was her best yet at World Cup level, having previously finished 13th, 17th and 22nd in her three appearances last season.
The 23-year-old, who travelled to South Korea for the Olympic Winter Games in February as part of Team GB's Ambitions Programme, posted a combined time of 1 minute 47.04 seconds in Sigulda, clocking the 11th fastest time in Run 1 and the 10th quickest in Run 2.
Murray finished three tenths of a second behind her team-mate after registering the 12th best time in Run 1 and the 13th in Run 2.
Russia's Elena Nikitina took top spot ahead of Canada's Elizabeth Maier (nee Vathje) and Germany's Tina Hermann.
Wyatt's 12th place effort was his joint second best in five World Cup races following his debut in Igls almost exactly a year ago. The 26-year-old, who won the national selection race in October, was also 12th in his last World Cup outing in Konigssee in January.
Rice finished a spot and 27 hundredths of a second behind Wyatt, with Thomas a further sixth tenths back.
Olympic silver medallist Nikita Tregubov won men's gold, with home favourite Martins Dukurs taking silver and Olympic Champion Sungbin Yun claiming bronze.
There was no British involvement in bobsleigh in Latvia but Head Coach Lee Johnston and his team will join British Skeleton in Winterberg for Round 2 next weekend.