Bobsleigh round up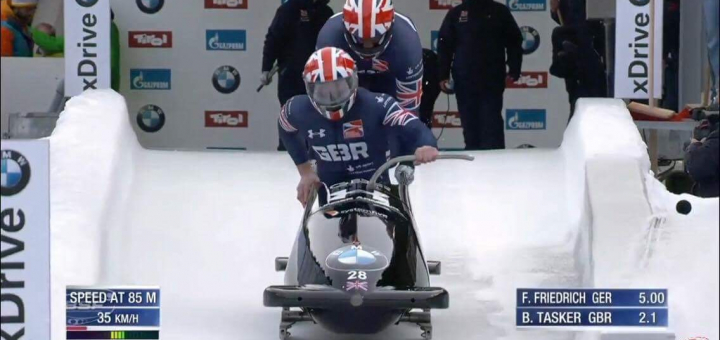 The final weekend of races before the World Championships saw GB Bobsleigh pick up a brace of top 12 finishes in World Cup 7 in Austria.
Mica McNeill and Montell Douglas were 12th in the women's race on Saturday afternoon, shortly after Bruce Tasker and Toby Olubi had achieved the same result in the 2-man event.
McNeill and Douglas won Europa Cup gold in Winterberg and McNeill tasted World Junior Championship glory alongside Mica Moore last week but they narrowly missed out on a top 10 finish in a competitive field in Igls.
The British pair clocked a combined time of 1 minute 47.9 seconds to finish 0.43 seconds outside the podium places in a race won Elana Meyers Taylor and Lolo Jones.
Montell Douglas & Mica McNeill were 12th in World Cup 7 on Saturday
Tasker and Olubi, who won Europa Cup silver in Altenberg in December and were 12th in their only World Cup showing together to date last month, were 24 hundredths off the top six in a time of 1.44.09.
Germany's Francesco Friedrich and Thorsten Margis took top spot, with Tasker and Olubi's team-mates, Brad Hall and Sam Blanchet, finishing 24th.
In Sunday's 4-man race, both British crews made it through to Run 2 but neither were able to better Saturday's results as Hall, Blanchet, Tasker and Greg Cackett came 18th and Lamin Deen, Ben Simons, John Baines and Andrew Matthews placed 20th.
There is no racing this coming weekend, with the World Championships in Konigssee, Germany next on the agenda. The women's bobsleigh takes place on Friday 17th and Saturday 18th, February and the 2-man bobsleigh follows on the 18th and 19th.