Consistency the target for Skeleton team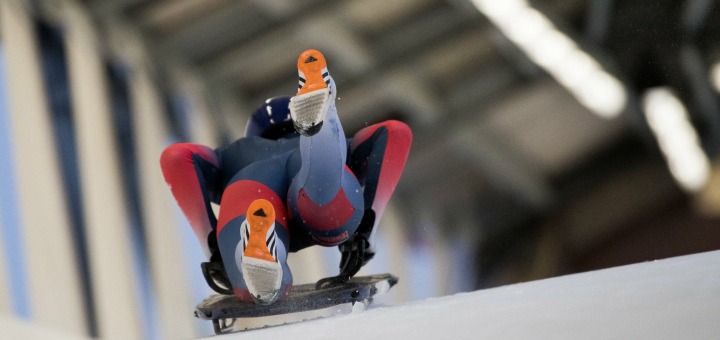 Consistency will be the prime objective when British Skeleton take to the ice for the second World Cup race of the season this Friday.
The team started the top-circuit season in Sigulda last Saturday and Sunday and are now in the final throws of their preparation for the next of eight World Cup races in Winterberg, Germany.
Laura Deas makes her first World Cup appearance of the season after missing last week's opener in Latvia. The Olympic bronze medallist won back-to-back Intercontinental Cup golds in Winterberg last month and has placed seventh, eighth and fourth in her three previous World Cup appearances at the German track, as well as seventh at the 2015 World Championships.
Madelaine Smith and Kim Murray join Deas in the women's field after 10th and 13th-place finishes respectively in Week 1 last Sunday. Smith's result in Sigulda was her best yet in the World Cup following three appearances last season, while Murray was making her top-level debut in Latvia. 
Jerry Rice, Jack Thomas and Marcus Wyatt represent GB in the men's event for the second week running after the trio finished 12th, 13th and 19th last Saturday.
Head Coach Eric Bernotas, who was a key part of the team's Olympic success in South Korea, was pleased with what he saw in Sigulda and is now looking for further progress as the journey to the next Winter Games in China continues.
"The entire team is in good spirits and we've got a strong and supportive environment here," said Bernotas, who is a former World Championship and overall World Cup silver medallist.
"We are looking for consistency in our sliding as we are focusing on building as a team and as individual sliders with every opportunity we get.  It's really important that we keep making that progress week on week.
"They've been focusing on their process on the ice and finding a healthy balance for recovery away from the ice as it's been a short turnaround between Race 1 and 2. They're all very focused and confident and it's good to see them continually implementing pieces that help them progress. 
Training has started off how we would like: there are things to still work on and it will be a very tough field of competitors here but, despite the quick turn around, everyone knows the plan and they're all putting it into action. This race is a good opportunity to finish up the first half of the season on a strong footing.
"The team prepared and performed well on and off the track in Latvia. We have had limited exposure in Sigulda but it was a good effort all round. We stuck to our plans and processes and continued what's been a good start to the season on the other circuits. We now want more of the same in Winterberg."
Both races take place on Friday, with the men kicking things off at 9.15am and the women following suit at 12.30pm.
You can watch the races live via the International Bobsleigh & Skeleton Federation website and on their YouTube channel.
Friday, December 14th @ 9.15am GMT
Men's Skeleton: Jerry Rice, Jack Thomas, Marcus Wyatt
Friday, December 14th @ 12.30pm GMT
Women's Skeleton: Laura Deas, Kim Murray, Madelaine Smith