Bobsleigh boost for Whistler weekend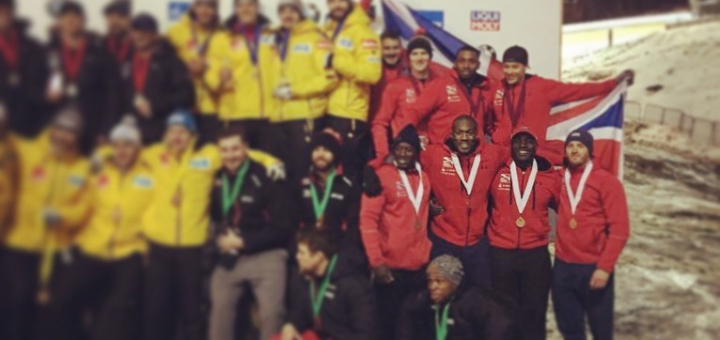 Great Britain Bobsleigh will look to build on last week's first World Cup medal for four years when they return to the ice in Whistler this weekend.
Brad Hall piloted GB to a brilliant bronze in the second of two back-to-back 4-man races in Park City in the early hours of Sunday morning, with Lamin Deen guiding his crew to a place on the wider podium as the country celebrated two sleds in the top six for the first time since the 1990s.
Now the aim is to kick on in Canada as the 2018 Olympic Winter Games in Pyeongchang draw ever closer.
"We had a great result last weekend with our first World Cup medal since 2013 and two sleds in the top six for the first time in two decades," said GB Bobsleigh Performance Director, Chris Price.
The mood in the camp was very good regardless but there's no doubt that success gives everybody an extra lift.
"We all know what the team are capable of and it was great to see potential turned into really positive results in Park City.
"Collectively, there was a great sense of satisfaction among the athletes and staff and those of us back in the UK really enjoyed seeing the camaraderie at the end of the race. It was clear to see how delighted they were for each other, and that's exactly the kind of spirit we've been seeing in training."
GB Bobsleigh enjoyed a superb second 4-man race in Park City 
Head Coach, Lee Johnston, has named the same 4-man crews for the third race of the season at 10pm GMT on Saturday night.
Hall will again push with Bruce Tasker, Joel Fearon and Greg Cackett, while Deen will team up with Ben Simons, Toby Olubi and Andrew Matthews.
"Brad has understandably been boosted by his first World Cup podium," added Price. "It demonstrated his abilities as a pilot, particularly given the fact that he had never driven the Park City track prior to last week.
And it was brilliant to see Lamin back in real form with a top six and a top eight in the two races. He seems to have found the kind of form he had in 2016 and that's massively encouraging.
"Lamin posted speeds of over 150kmph in Whistler in pre-season training and I'm sure there's more to come from both him and Brad this season."
The first bobsleigh event of the weekend is the 2-man competition, which takes place at 11pm GMT today. Tasker will link up with Nick Gleeson, who makes his first appearance of the season, while Hall will race with Fearon.
The Women's Bobsleigh follows at 2am on Saturday, with Mica McNeill and Mica Moore - who celebrated her 25th birthday on Thursday - sliding together for the third race in a row this term.
The British pair were 13th last time out, having opened the campaign with an impressive eighth-place finish in Placid.
"The women carried a lot of confidence from the Lake Placid result and training went well in Park City," continued Price.
"Although they had a slightly disappointing result compared to their first race and what they'd showed they were capable of in training, they were only 11 hundredths of a second from matching the eighth-place finish they had in Placid. I've got the utmost confidence that they will do well in Whistler as they look for another top 10 finish.
Whistler is the last race of the North American leg of the season and our time in America and Canada has tested the team in three very different ways: Lake Placid is a long but very technical track with corner after corner after corner; Park City is short and precise, with a tricky lower section; while Whistler is known to be the fastest track in the world and therefore provides another very different challenge.
"The team did spend some time in Whistler in pre-season, though, so they know the track relatively well and I'm confident they can produce the goods again this weekend."
GB Skeleton are also on the ice in Whistler tonight and tomorrow as Laura Deas, Ashleigh Pittaway, Lizzy Yarnold, Dom Parsons, Jerry Rice and Jack Thomas continue their World Cup challenge.
Deas, who is the highest ranked Brit in the world rankings, will be looking to build on back-to-back top fives, while Yarnold will aim to win her second medal of the season following her opening bronze in Week 1.
Pittaway missed out on a second run by the narrowest of margins in each of the first two races as she finished 21st on both occasions, while Parsons, Rice and Thomas were 12 and 20th, 15th and 24th and 28th and 25th respectively in Placid and Park City.
The Women's Skeleton takes place at 6pm GMT today and the Men's race follows at the same time on Saturday.
Don't forget, you can follow all the action via the BBC Sport Red Button, connected app and online, as well as via the IBSF YouTube channel and website.