Blanchet bucking the trend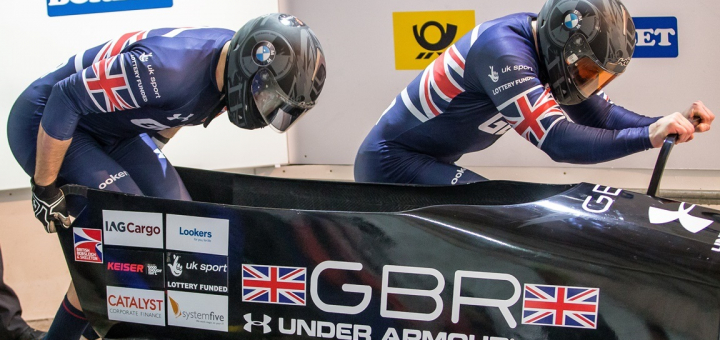 When it comes to bobsleigh brakemen, sprinters and decathletes seem to have the field pretty well covered, but GB's Sam Blanchet is bucking that trend.
The British squad includes a host of athletes who honed their skills on the athletics track, with the likes of sub 10-second star Joel Fearon and Olympic 4x100m Champion Mark Lewis-Francis among those having shone in both arenas.
Blanchet has matched the squad's sprinters when it comes to representing his country on the big stage prior to switching sports but his success came in rugby union, and in Sevens in particular.
Having starred for England at the Hong Kong Sevens in 2014 and played Premiership rugby with Exeter Chiefs, Blanchet had achieved a life-long dream but he was fast falling out of love with the sport and was looking for a change of direction. A number of past-times had the potential to re-ignite his passion but, fortunately for Performance Director Gary Anderson and his team, Blanchet chose bobsleigh and he hasn't looked back since.
"From the moment I attended my first bobsleigh training camp, I knew it was something that I wanted to do, and do well," said Blanchet, who made this February's World Championship squad in his first year in the sport.
"I could have kept playing professional rugby but the big thing when you play sport at a high level is that you have to enjoy it. The guys who are the best always enjoy it. I'd had a tonne of injuries and probably missed as many games as I'd played. I'd fallen out of love with rugby because of that. I lost that enjoyment and, as a consequence, I wasn't playing very well.
I'd initially found out about bobsleigh when I was playing Sevens and had a broken wrist. I got in contact with the English Institute of Sport (EIS) and went to an EIS testing day at Bisham Abbey for a physical screening and it went from there. Chris Woolley (GB Bobsleigh coach) then invited me to a two-day training camp with the development team two summers ago and I was close to swapping sports the season before I eventually did.
"I was in two minds at that time as to what to do as it was a big change and there were no guarantees. At the last minute, I signed a contract with Bedford because my brother was there but I struggled through that year with another big injury and I knew I was done with rugby that season. I'd been in email contact with Chris about transferring and, after some time out in Australia, I had a trial with GB Bobsleigh at Lee Valley.
"It was a tough move in a way but I had full confidence in myself that I could make something of it. Although I'd only done three days' worth of bobsleigh training before making the switch, I had a really good feeling that it would be something that I'd enjoy. I already love the sport and that definitely helps."
Sam Blanchet made the World Championship squad within months of joining GB Bobsleigh
Starting something from scratch when you have excelled in a sport that has become second nature would appear pretty daunting from the outside looking in but Blanchet insists he didn't see it that way.
And, while the 24-year-old admits he was at a distinct disadvantage compared to his sprinting team-mates when it comes to long-distance speed, Blanchet believes the skillset he acquired during his time as a rugby player stood him in good stead for the transition to the winter sports world.
"The change physically is huge, there's no doubt about that. A lot of the guys here are from power based sports whereas there is a big endurance component in rugby. But the great thing was that, because it was something totally knew to me, the changes happened pretty fast" added Blanchet.
Sprinting was completely new to me. I did some athletics in school but that was mainly shot put and discus.
"I was always naturally fast and I did the 4x100m but it was never something that I was particularly interested in as I preferred ball sports and field sports. By the age of 15, I knew I wanted to play professional rugby so I put all my efforts into that. Whilst you do more power work in Sevens than in 15s, a lot of it is still based around work capacity. In Sevens, you'll get longer runs than you would in 15s, but it will never be to the intensity or the speed of a 60m or 100m sprint.
"That first 15 metres of acceleration was always okay for me, it was getting further down the hill that was more of a challenge and it's something that our sprinters are very good at. But we've got some great physical coaches here in Chris and Mike Khmel and they've been a big help.
Blanchet played Sevens for England prior to switching sports last summer
"I think the good thing about having played a sport like rugby is that it requires a lot of hand-eye co-ordination and that really helps in terms of acquiring new skills. I was used to being out of my comfort zone. I played a lot of positions - I played in the backs and in the back row - so I'm used to learning new skills.
The similarity is the impact aspect of the two sports. Hitting a bobsleigh is like making a tackle or hitting a ruck.
"Rugby is a very open sport when it comes to skill set, whereas bobsleigh is very closed. There's a lot less things to worry about. As Chris likes to say, it's 'hit, push, load'. There are very few things you have to do, but you have to do them very, very well."
Blanchet's progression to the World Championship squad suggests he is well on his way to doing those things at the required standard and there's no doubting that both he and his coaches are pleased with how his debut season went last winter.
A brace of podium places in North American Cup action was followed by appearances in six of the eight World Cup races, culminating in a fine eighth-place finish in the 4-man event in Pyeongchang, the venue for next year's Winter Olympics in South Korea.
His 28th spot alongside Brad Hall in the World Championship 2-man competition might not have been exactly what he was hoping for but just making it to the showpiece event of the season so soon into his transition has left him with plenty to look forward to in Olympic year.
"It sounds boring but I've just been taking it a week at a time. I've been enjoying learning from the great athletes that are here, guys like Bruce (Tasker) and Brad and the other brakemen, and competing with them has been a lot of fun.
"I set myself a number of targets during the year and the first was to get in the top eight at push track rankings in the summer. I did well there and surprised a few people. I was then working with Bruce at the North America's Cup and we started well and finished well there - he's a phenomenal athlete. The World Cup was then the big thing for me, followed by the World Championships.
Results wise, the World Champs were disappointing, but to get to experience everything that goes with it was amazing. Dominik (Head Coach, Dominik Scherrer) said he wanted me to experience the big stage and I got to do that. They love their bobsleigh in Germany and there were big crowds out there. It was also my first two-day competition and I learnt a lot in terms of my own preparation for next year.
"We then did really well in the 4-man in Pyeongchang in the last race of the season. Obviously, it would be amazing to go back there for the Olympics but I don't like to think too far ahead. The Olympic dream played a part in me moving over to bobsleigh but it wasn't the be all and end all. I fell in love with this sport from the moment I tried it and that's what's driving me forward through the summer."