Bittersweet for British women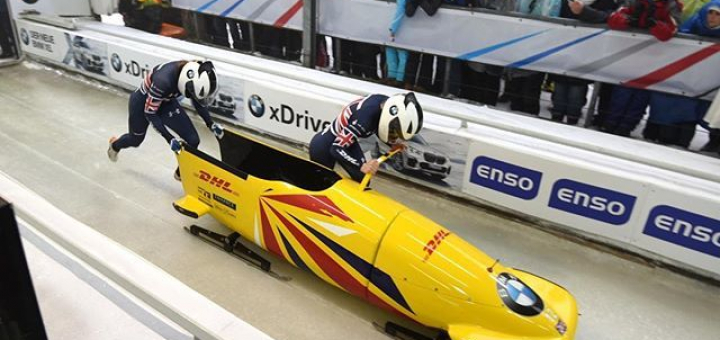 Mica McNeill and Montell Douglas have described their best-ever World Cup finish as 'bittersweet' but believe it bodes well for even better to come.
McNeill and Douglas finished fourth in Saturday's race in Altenberg, Germany, beating McNeill's previous World Cup best of joint fifth and Douglas' PB of seventh in the process.
But there could have been even more reason to celebrate as the pair led the field at the halfway mark before eventually ending the race just four hundredths of a second outside a first British women's World Cup medal for a decade.
Throw in a double controversy featuring a timing malfunction that initially saw them given sixth place and the appearance of a 'foreign object' on the track at the start of their second run and it was understandable for feelings to be mixed when they reflected post-race.
"We're very happy to have a PB World cup result," said McNeill, who won her first four races on the North American Cup circuit prior to starting her World Cup season in December.
It's a bittersweet feeling, though, with us having been sat in first at the end of the first heat and with a lot of drama going on.
"The timing gates didn't go off so we had to use the 'B' gates and we also had the cup situation that got thrown at us.
"But we are happy with the result. It's a great building block to move towards the World Championships."
Those sentiments were echoed by Douglas, a former British 100m record holder who is now the nation's No1 brakewoman having been the reserve athlete for Team GB at last year's Olympic Winter Games.
"It's definitely a bittersweet result today but there lots of great things to take from the race," added Douglas
"The focus for the race was to improve some minor things and we did that. And to achieve a best-ever World Cup result with much more still to give, we've gotta be happy."
British Bobsleigh's Performance Director, Lee Johnston, feels that Saturday's performance is another indication that McNeill and Douglas are heading in the right direction as the World Championships draw ever closer.
The showpiece event of the season in Whistler in March was always the highlighted major goal and Johnston has been delighted to see the pair putting what they've learnt in training into practice come race day.
"It's a really impressive result for Mica and Montell and it's one they should be very proud of. It's another step in the right direction," said Johnston.
"The plan has been to take what we've done in training into the race and they've done that in both Alteneberg and Winterberg. Lets hope Mica can take that into next week's race in Konigssee now."