Bernotas to step down at season's end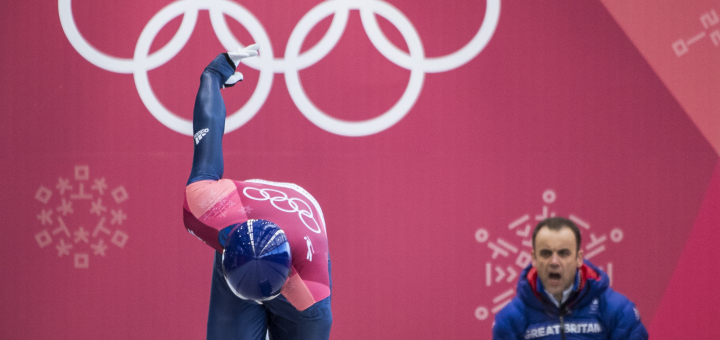 Eric Bernotas will step down from his role as Lead Ice Coach of British Skeleton at the end of the season after a hugely successful five years with the team.
Bernotas helped guide Great Britain to an historic hat-trick of medals at February's Olympic Winter Games in South Korea as Lizzy Yarnold retained her title and both Laura Deas and Dom Parsons won bronze on the biggest stage of all.
The former American slider will continue in his current position until the conclusion of the World Championships in Whistler in 2019, with discussions ongoing regarding a change in role that would see him remain with British Skeleton on a longer-term basis.
"I'm committed to do what I signed up to do in the summer but I just feel that the end of the season would be a good time for a new start: it's about turning a new page to keep things fresh," said 47-year-old Bernotas, who joined the programme in July 2014.
"That could look like a different role here with the team and that's something that has already been highlighted and that we'll continue discussing. There's a big part of me that's connected to what goes on here.
By announcing my intentions now, that gives the programme time to plan so that my replacement is in place in good time for the 2019/2020 season. We'll be less than one year into the quad then so there is plenty of opportunity for the team to plan for the three years leading up to the next Olympics.
"There won't be any hurdles that prevent me from focussing on what's needed to support the athletes over the next three-and-a-half months. I've always given 100 per cent commitment to the progamme and that will continue to be the case. I'll have the same attitude and enthusiasm and we'll keep looking to improve all the way up to the worlds."
"Eric has made an outstanding contribution to British Skeleton and it's not an exaggeration to say that we wouldn't be where we are today without him," said the team's Interim Performance Director, Natalie Dunman.
We are incredibly grateful for Eric's efforts over the last four-and-a-half years and we are in discussions around a new role for him within the team from the end of the season.
"Eric had a major impact on the success of the team at the 2018 Olympic Winter Games - as well as the progress the programme made in between Sochi and PyeongChang - and he will do everything he can to ensure we taste more success during the rest of the season."
Eric Bernotas (4th from left) was a huge part of the team's success in South Korea
"There are so many highlights," added Bernotas, who won overall World Cup and World Championship silver in a stellar 10-year sliding career prior to starting out as a coach with the Australian national team in 2011.
"It is a real pleasure to work with such an outstanding group of athletes and staff. The relationships we have built have played a key part in the team's success and that's something everyone should be really proud of.
"There have been ups and downs during our journey here and that makes all the highlights so much more substantial. I'm very proud to be associated with a team that has represented the country in such a positive way.
The Olympics definitely stand out: I could never have imagined what we would achieve. You put your head down and go to it but the end result was extraordinary.
"The Games had been a pursuit of mine for 17 years since I started sliding. I've always had a pursuit of excellence and it's great when that comes with the outcome that it did. We believed in a process, didn't get discouraged from it and we continued on that pursuit. That was very special."