Another top 10 for GB 4-man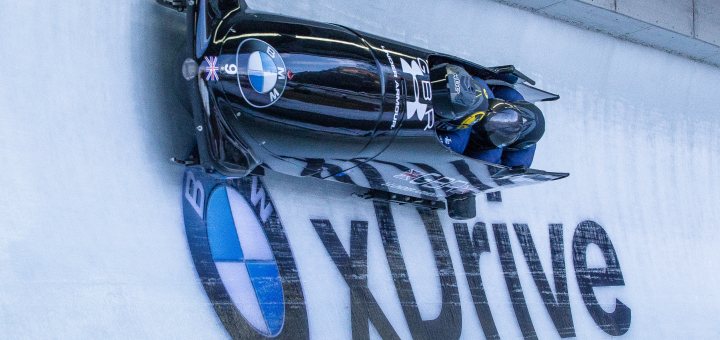 A British 4-man Bobsleigh team finished in the top 10 for the fifth World Cup race running on Sunday.
Lamin Deen, Ben Simons, Toby Olubi and Andrew Matthews were equal ninth in Winterberg in the fourth competition of the eight-race World Cup season, with GB also securing a top 10 finish in the final race of last season in Pyeongchang.
Deen, Simons, Olubi and Matthews had won World Cup silver in Whistler a fortnight ago and were sixth in Park City a week earlier and Deen still sits fourth in the overall world rankings with the Olympic Winter Games now less than two months away.
Brad Hall, Nick Gleeson, Joel Fearon and Greg Cackett finished 13th in a 29-strong field having improved from 16th after the first run, meaning Hall is 12th in the rankings after winning World Cup bronze in America last month.
Conditions were tough once again as the snow fell in Winterberg
Germany celebrated a clean sweep of the medals on home ice as Johannes Lochner took gold ahead of compatriots Nico Walther and Francesco Friedrich in typically tough conditions in Winterberg.
Lochner, who also won in Park City, continues to lead the standings, with Deen still well within striking distance of an overall season medal after four successive top 10s this term.
Deen's team recorded an overall time of 1 minute 49.93 seconds in Germany as they followed up a 54.78 second first run with 55.15 second time around. Those times came off the back of 5.13 and 5.11 start times, the second of which was the sixth fastest in Run 2.
Hall and co clocked 1 minute 50.21 seconds thanks to 55.05 and 55.16 second runs from 5.09 and 5.13 starts (the eighth quickest on both occasions).
Brad, Nick, Joel and Greg finished 13th on Sunday
Saturday's racing saw Mica McNeill and Mica Moore finish 20th in the women's race, with Hall and Cackett and Bruce Tasker and Judah Simpson 24th and 25th respectively in the 2-man competition.
World Cup (Winterberg, Germany). 4-Man Bobsleigh: 1 J Lochner (GER) 1m 49.03 (54.36 & 54.67); 2 N Walther 1-49.26 (GER) (54.48 & 54.78); 3 F Friedrich (GER) 1-49.36 (54.51 & 54.85); =9 L Deen (GBR) 1-49.93 (54.78 & 55.15); 13 B Hall (GBR) 1-50.21 (55.05 & 55.16)
World Cup rankings: 1 J Lochner (GER) 826pts; 2 N Walther (GER) 787; 3 J Kripps (CAN) 754; 4 L Deen (GBR) 698; 12 B Hall (GBR) 528