Added interest for Amy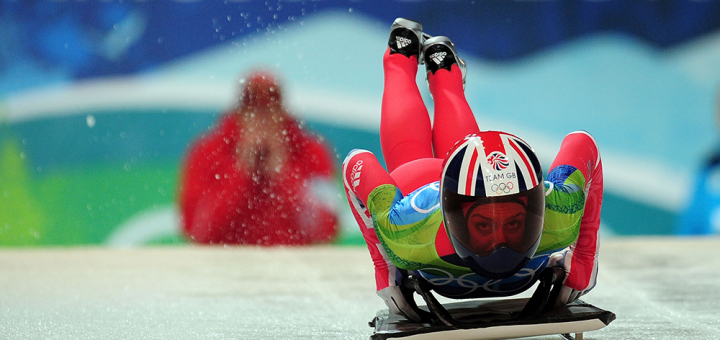 Olympic Skeleton Champion Amy Williams will be watching this week's World Championships with added interest as the event returns to the scene of her greatest triumph.
Williams won gold in Whistler nine years ago and she hopes the six-strong British team currently out in Vancouver will enjoy their Canadian adventure as much as she did.
"It feels like a lifetime ago but, for me, Whistler is such a special place. Watching the World Champs will bring back some great memories," said Williams, who became the country's first individual Winter Olympics gold medallist for 30 years when she achieved the ultimate dream back in 2010.
"My advice to the team, especially for those who are at their first World Champs, is to enjoy it. It's just another competition so don't do anything differently.
"Unless I enjoyed it, I didn't get the results. It took me years and years to figure that out. It might feel like this is the moment you've been working for all your life, but you've still got to enjoy it.
When I stood on the start line in Whistler, I can remember the last thing I did was look out at the view. I had all that noise around me but I looked out and thought, 'I'm about to do an amazing thing at an amazing place'. 
"I can remember smiling inside my helmet. No one knew that. You might be nervous as hell, your legs might be shaking, but you've got to think, 'I'm lucky to be here and I'm going to have fun'."
Amy Williams won Team GB's first individual Olympic gold since 1980
It's good advice from the athlete who set the ball rolling for three successive Olympic gold medals for British Skeleton, but it's definitely easier said than done!
Whistler has long been regarded as the world's most fearsome track and last weekend's bobsleigh action has done nothing to dampen that reputation. No fewer than five sleds overturned in the women's bobsleigh race, including former World Champion and double Olympic silver medallist, Elana Meyers Taylor, while Britain's Brad Hall hit speeds of up of to 94mph in the 2-man event on Saturday and Sunday.
"It's definitely a gutsy track," added Williams, who still holds the track record of 53.68 seconds set during her Olympic triumph. 
"Back in 2010, it was this brand new track that had just been built. There were rumours it was going to be the fastest and the scariest in the world, and it was!
"It's quite a short, flat start but it drops away quickly into such a steep descent, which is unusual. That means you've really got to be on it going into that first corner. There's big corners, big G Forces and the speed is always there.
There are no 'sleepy' moments. Your speed gets up very quickly and you can't lose concentration for a split second.
"There's way less time to think. If you don't get your steers right, you could even flip out of corner one, which is unusual.
"What looks like a straight to people on TV could actually be a corner - even what looks like a straight actually isn't! It's like threading a needle! The angle that you see the athlete coming towards you on TV makes it look easier than it is - the athlete almost has to aim for a wall, knowing they're not going to hit it, and that takes guts. 
"You have to get over your fear of the speed. I had to be friends with the speed: I had to say, 'If I want to win this race, I have to love the speed.' It'll be the same for the team competing this week."
Whistler is the fastest bobsleigh and skeleton track in the world
Of the six athletes selected to represent Great Britain in Whistler, half of them have never competed at a World Championships before. Ashleigh Pittaway, Madelaine Smith and Marcus Wyatt are all new to the showpiece event but Williams believes they have the perfect platform to match her own Olympic achievements the next time the Games come round in 2022.
"These athletes competing at the World Championships have every reason to believe that they can win a medal at the next Olympic Games.
There's a formula and we know how to produce champions. They know that if they work hard, slot in and beast themselves, they can get to an Olympics or even become an Olympic Champion.
"That's testament to the team, to the management and to British Skeleton as a whole, and to the enthusiasm of the public who continue to support the sport.
"We're producing potential champions in every Olympic cycle and I'm excited to watch them in Whistler this week."