12-year best for men's team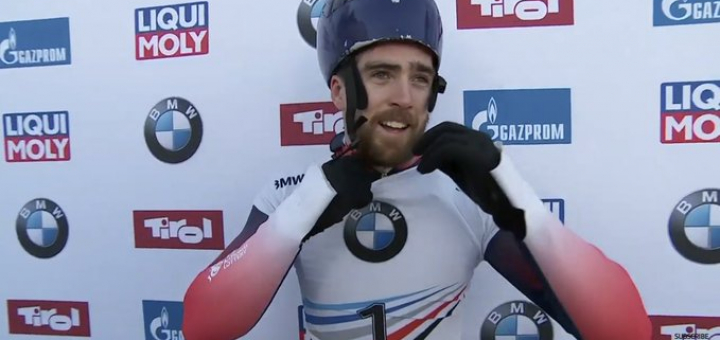 Marcus Wyatt and Craig Thompson gave GB Skeleton their best combined men's World Cup results for 12 years as they both finished on the wider podium on Friday.
Wyatt placed fourth and Thompson sixth in the fifth World Cup race of the season in Igls, Austria.
It marks GB's best male showing for two sliders on the top circuit since February 2008 when soon-to-be World Champion Kristan Bromley won silver and Adam Pengilly placed sixth in Konigssee.
Wyatt sat in the bronze medal position at the halfway mark of the two-run race on the outskirts of Innsbruck before just missing out to reigning World Champion, Martins Dukurs, current Olympic Champion, Sungbin Yun, and 2014 Olympic gold medallist, Alexander Tretiakov.
The result topped his previous World Cup best of fifth from Calgary, Canada, 11 months ago and comprehensively beats his season's best of eighth set in both Winterberg and Lake Placid earlier this month and last.
"I'm delighted with that. It's by far my best result of the season and it's another PB," said Wyatt, a former American Footballer from Honiton in Devon.
I said at the start of the year that I wanted to kick on and challenge for medals and I did that today.
"I'm obviously disappointed that I couldn't hold on to bronze in the second run but it's still a great result for me. 
"It's another step forward towards being in the mix for a medal at the Beijing Olympics and it's a nice confidence boost as well. 
"To be on the wider podium with Craig is great. He put in a brilliant performance today and he really showed what he can do. We want each other to do well and it just adds to what's been a special day."
Marcus Wyatt recorded a PB in Igls
Thompson headed to Igls with a career high of 16th on the World Cup circuit - a result he set on his first outing in the sport's version of the Premier League in Lake Placid in February of last year.
The ex-Swindon Town Youth footballer sat 12th after Run 1 but produced the fourth fastest time of the second heat to jump up six spots by the finish.
Thompson enjoyed the longest spell in the leader's box of all the sliders and was understandably delighted with his morning's work.
"It's pretty special. The first half of the season hadn't gone to plan for me so I'm speechless to have come sixth," said the 27-year-old, who had missed the cut for the top 20 sliders this time last week in La Plagne.
I can't really explain it but it's a brilliant feeling. It's a really big confidence boost and I'm over the moon.
"To get on the wider podium at this level at this stage in my career is fantastic. It's showed me that I can compete against these guys. It hadn't clicked for me in the first four races this season but something just clicked here today. This is definitely the career highlight so far, massively so."
Both Brits were the top starters in Igls, with Wyatt producing the quickest start time in Run 1 and Thompson following suit in Run 2. No slider in the field of 30 went quicker than their 4.83 seconds effort at a track where Dukurs had won the last ten top-tier races.
Did you know?
Wyatt's finishing position of fourth was GB's best men's individual World Cup result since Olympic bronze medallist Dom Parsons placed in the same position in St Moritz almost two years ago to the day.