World Cup preview: Park City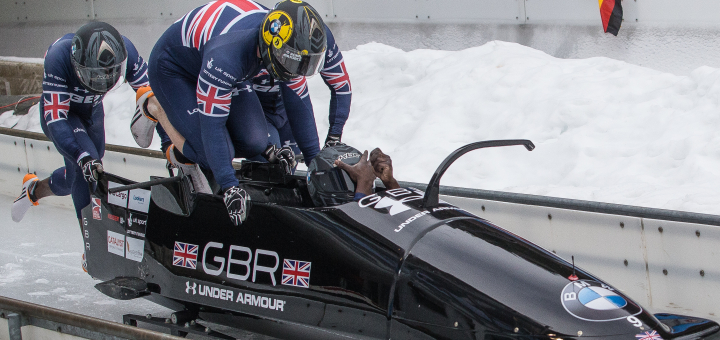 Sochi Olympian Lamin Deen will make his first appearance of the new bobsleigh season in Park City this weekend, while reigning Olympic Skeleton Champion Lizzy Yarnold will be looking to build on the bronze medal she won in Lake Placid last time out.
Deen, who guided GB to fifth at the World Championships 12 months after his maiden Olympics in 2014, didn't race last week as the 4-man bobsleigh competition was cancelled due to unseasonably warm weather.
The 36-year-old Grenadier Guardsman joins Brad Hall in piloting the two British sleds for back-to-back 4-man races on Saturday and Sunday.
Ben Simons, Toby Olubi and Joel Fearon line up alongside Deen for the first of the two 4-man races at 10pm GMT on Friday, with Sam Blanchet, Judah Simpson and Greg Cackett pushing Hall in Utah in the same race.
The second 4-man race at 11pm on Saturday sees Simons, Olubi and Deen joined by Andrew Matthews, while Hall is partnered by Bruce Tasker, Fearon and Cackett in a repeat of his team from February's World Championships in Konigssee.
Mica Moore again links up with Mica McNeill for the GB Women's team following an impressive eighth-place finish in their opening race last Friday. The pair were ultra consistent across both heats in New York State and they will look to close the gap on a wider podium place when Race 2 takes place at 1am GMT on Saturday.
"While the 2-man results last week weren't what we were looking for, there were some encouraging signs, particularly when it came to our start times," said GB Bobsleigh Performance Director, Chris Price.
With the 4-man races having been cancelled in Lake Placid, we have a group of athletes who are chomping at the bit to get back racing.
"Training has gone well and we've got some real strength in depth, which makes team selections particularly tough.
"The Women's team performed very well last time out, with Mica producing two really consistent drives, and they will be looking to build on a really positive platform from Placid."
Yarnold won GB's first medal of the new World Cup season when she matched February's World Championship performance in finishing behind Janine Flock and Elizabeth Vathje in Race 1.
Laura Deas made it two British sliders in the top five in Lake Placid and she and Youth Olympic Champion Ashleigh Pittaway, who was 21st last week, join Yarnold again in representing GB in the Women's Skeleton at 7pm GMT on Friday.
Yarnold, Deas and Pittaway represent GB again on Friday
Dom Parsons, Jerry Rice and Jack Thomas again make up the Men's Skeleton squad after they finished 12th, 15th and 28th respectively in the opening week's action.
"It was a solid start across the board as a whole last week," said GB Skeleton Head of Performance, Danny Holdcroft.
Hopefully, each athlete can take a step forwards from last weekend in respect of their own individual plan as we build towards Pyeongchang.
"Ultimately, it is about enabling an athlete to deliver their optimum on a given day and then being consistent across the season. If we can achieve that with all six World Cup athletes then it will be another good part of the plan completed."
You can watch all the action via the BBC Red Button, Connected App and BBC Sport website, plus the IBSF website and YouTube channels.
World Cup 2 - Park City, USA
All times are GMT
Fri 17 Nov
Women's Skeleton 7pm
Men's 4-man Bobsleigh 10pm
Sat 18 Nov
Women's Bobsleigh 1am
Men's Skeleton 7pm
Men's 4-man Bobsleigh 11pm
Britain's Skeleton sliders are also in action on the Europa Cup and Intercontinental Cup circuit on Friday and Saturday morning as they look to build on last week's raft of medals in Lillehammer.
DID YOU KNOW?
GB Skeleton won no fewer than 10 medals across five days of racing on three international circuits last week.
Click here to find out who, how and where.