Parsons on course for top ten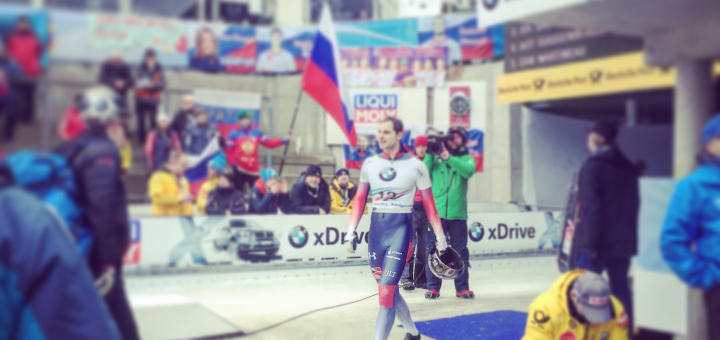 Dom Parsons is on course for a top ten finish at the World Championships after ending Day 1 of the men's skeleton in ninth position.
A combined time of 1 minute 43.88 seconds over the first two of four runs has left him within a whisker of seventh spot and exactly half a second clear of the slider immediately behind him in 10th.
Having finished his first run in 52.05 seconds, Parsons clocked the seventh fastest time in Run 2 with 51.83 to narrow the gap on eighth-placed Tomass Dukurs and seventh-placed Matt Antoine to 0.02 and 0.08 seconds respectively in Konigssee.
Fellow Brits Jerry Rice and Jack Thomas are in 18th and 21st respectively after they registered times of 1 minute 44.85 and 1:45.51 in their debut World Championships, with reigning World Champion Martins Dukurs out in front from Nikita Tregybov of Russia and Germany's Axel Jungk.
"It was good to get a bit closer to Matt and Tomass after the second run and, if I can clean up that section in Kreisel where I made a mistake, hopefully I'll be able to pick up more time," said Parsons, who now has the unusual prospect of a day off before the second half of the race on Sunday.
"I know there are a few improvements I can make. I made a mistake in Kreisel on both runs, which cost me a fair bit of time.
"It's definitely easier for me to switch off now because I've had a lot of four-run races. We're expecting a bit of sun here tomorrow so hopefully I can do some sun bathing and get recharged by that! There's always time between the first two runs and the second two so whether there's a day off or not doesn't make much of a difference."
The men's skeleton concludes on Sunday from 7.30am GMT, with the action live on the BBC Sport website and red button and via the International Bobsleigh & Skeleton Federation website and YouTube channel.