Brits set for 2-man test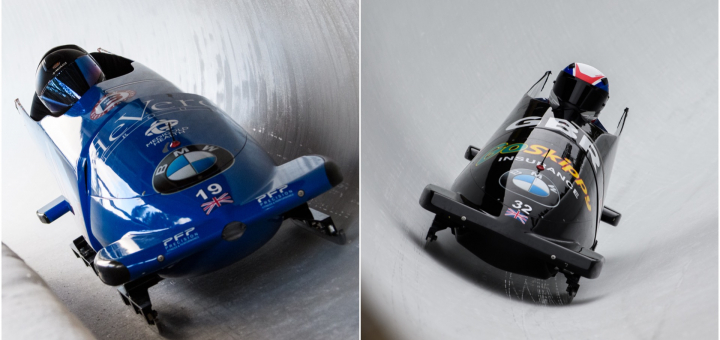 Brad Hall and Lamin Deen pilot British sleds in the 2-man bobsleigh World Championships tomorrow, with the latter looking to finishing a stunning season in added style.
Hall and brakeman Greg Cackett finished fifth in the IBSF rankings this season and won an historic World Cup silver medal in Innsbruck last month. 
That success in Austria was the country's best 2-man result this millennium as they built on their fourth-place finish in La Plagne and their sixth spot in Konigssee, before finishing fifth in Sigulda on the final weekend of World Cup racing seven days ago.
Hall made history at the last World Championships in Whistler in March 2019 as he and Nick Gleeson finished joint fourth to match the country's best 2-man World Championship result for more than half a century.
He and Cackett, who only returned to bobsleigh racing last month after a spell in competitive cycling, start eighth of 27 sleds in Altenberg, Germany. Hall is heading into his fourth World Championships, while Cackett is set for his second.
Brad Hall & Greg Cackett are in great form
Deen links up with fellow double Olympian Ben Simons, a team-mate from the World Championships in 2013, 2015, 2016, 2017 and 2019, as well as the 2014 Olympic Winter Games in Sochi and the 2018 Olympics in PyeongChang.
Deen and Simons, who have competed at a combined total of 11 World Championships – a tally that includes a fine fifth-place finish in the 4-man event in Igls four years ago - are the penultimate sled to start on Saturday.
Lamin Deen & Ben Simons were fifth at the 2015 World Champs
Heats 1 & 2 begin at 10.30am GMT tomorrow, with the third and fourth runs scheduled for 1.30pm on Sunday.
Mica McNeill and Montell Douglas also go for GB tomorrow in the final two runs of the women's bobsleigh. The British pair sit sixth overnight and are on course for the nation's best result in that discipline for 11 years. 
For details of McNeill and Douglas' efforts in Friday's heats, please click here.
You can watch all the World Championship action via the International Bobsleigh & Skeleton Federation website and on their YouTube channel.
We'll provide updates via our own social media channels and we'll post a round up of the results once they've come in.