Yarnold: Go for it with Girls4Gold!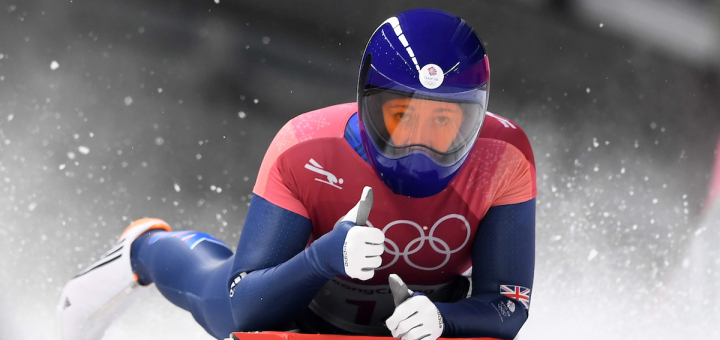 Double Olympic Champion Lizzy Yarnold is backing the search for Britain's next female super star in the exhilarating sport of skeleton.
British Skeleton last week announced their latest talent identification campaign specifically seeking females aged 17-25 who have the potential to win Olympic gold in Milan Cortina in 2026. Yarnold won Olympic Games gold in 2014 and 2018 to become the country's most decorated Winter Olympian and she's now putting out the call to the next generation of female thrill seekers to follow in her footsteps.
"It's an amazing opportunity and I'd encourage anyone who's thinking of applying to go for it!' said Yarnold, who is the only British Winter Olympian to retain an Olympic title.
"I know there will be a lot of young women out there who will be thinking, 'I couldn't do that', but you'll never know if you don't take that first step and put yourself forward.
I could never have imagined where the journey would take me when I signed up 12 years ago. If someone had said that filling in that form would lead to two Olympic gold medals, I wouldn't have believed them.
"I knew next to nothing about skeleton when I signed up. I had no experience of ice sports and had only seen it on the TV at the Olympics but I took a chance and it changed my life."
A former heptathlete, Yarnold made the switch to skeleton via a talent identification scheme back in late 2008 and early 2009 - the same scheme that started Olympic bronze medalist Laura Deas' sliding career - and she is confident that the team's latest search can help other young women achieve their potential and live their own sporting dream.
The British programme have won medals at each of the last five Olympics, making skeleton the country's most successful Winter Olympic sport of the modern era. Yarnold's back-to-back titles were preceded by gold for Amy Williams in 2010; silver for Shelley Rudman in 2006; and bronze for Alex Coomber in 2002; with Deas and Dom Parsons winning bronze alongside Yarnold in PyeongChang three years ago.
The team have again won medals on the World Cup circuit this season and Yarnold knows first-hand the foundations are in place to help young hopefuls push on to reach their potential.
"The programme presents people with new opportunities and guides them towards becoming Olympic medalists," added Yarnold.
The success isn't just a one off - it's been like this for almost 20 years now. That's really reassuring as an athlete when you're taking a step into the unknown or doing something that is outside of your comfort zone.
"Having good people around you who have already helped others achieve the same things you want to achieve is really important. Although it looks like an individual sport, it's very much about being part of a team and achieving something special together.
"I know from my own experience that, if you put the hard work in and commit to being the best you can be, the team will put the time and the tools into helping you do that and the end result could be something pretty amazing!"
Lizzy Yarnold loved the thrill of representing her country
History will always remember Yarnold's success on the ice but Olympic gold and World Championship, World Cup and European Championship glory aren't the only standout memories for Lizzy herself.
Just as important are the friendships she forged and the experiences she gained while competing, as well as the way her time with the team helped her develop as a person and not just as an athlete.  
"My focus when I signed up for the talent ID scheme was on getting to an Olympic Games and achieving a sporting dream but it was the things that went with it that make me just as proud when I look back. 
I met so many people from all walks of life and from so many different countries and I built friendships with team-mates who became like sisters when we were on circuit.
"I got the opportunity to travel to some amazing places and I learnt so much about myself along the way. It's an experience I would have treasured regardless of the medals and I'd definitely recommend it to anyone who's thinking of applying."
British Skeleton are welcoming applications from females aged 17-25 who fulfil one or more of the criteria below: 
Are ambitious to be the best you can be

Have a desire to be challenged and develop as a person

Love the adrenaline associated with theme parks, fast rides and extreme sports

Have the ability to run fast or jump high

Enjoy being part of a team but can also focus on individual goals 

Share our mantra of 'nothing is impossible'

And, of course, are willing to push yourself to be the best in the world
To sign up and take your first step to being the best you can be, click here
Applications close at midnight on April 30th.