World Cup returns to North America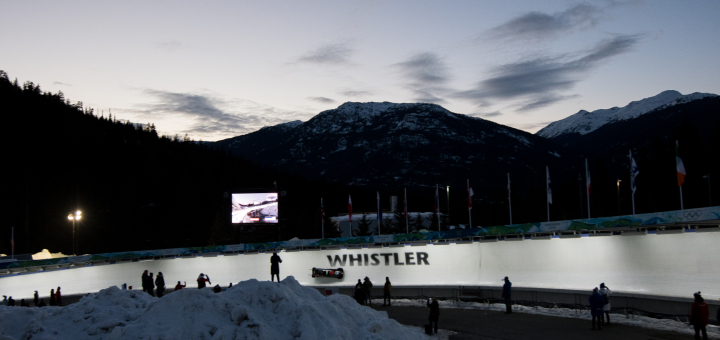 The 2022/23 season will see IBSF World Cup competition return to North America for the first time since the start of the Covid-19 pandemic.
Neither Canada nor the United States of America hosted a top-tier race in the past two seasons after travel restrictions limited the circuit to European venues but Whistler, Park City and Lake Placid all feature on the calendar this side of Christmas.
Whistler is the setting for the opening race of the season on the last weekend of November, with the 2010 Olympic venue hosting its first World Cup competition since November 2017.
Park City is the choice for Race 2, having also had to wait five full years to regain its place on the World Cup circuit, while Placid is the venue for the third and final race of the first part of the season on the weekend of December 16, 17 and 18.
British Bobsleigh athletes will be hoping for a repeat of the success of their most recent World Cup visits to Whistler and Park City, with Lamin Deen having won an historic 4-man gold in Canada a week after Brad Hall secured his first World Cup bronze in the US. Hall and Nick Gleeson finished joint fourth at the World Championships in Whistler in 2019, while British Skeleton's Laura Deas medaled the last time the World Cup circuit was in Canada when she won bronze in Calgary in February 2019.   
A two-week Christmas break will then be followed by three successive races in Germany from January 5 as Winterberg precedes a double header in Altenberg.
The World Championships in St Moritz punctuate the World Cup season after Race 6 between January 23 and February 5, with the final two World Cup competitions taking place on February 10, 11 and 12 and 17, 18 and 19 in Igls and Sigulda respectively.
Last season's World Cup circuit saw a stunning six-medal tally for Hall with Greg Cackett, Gleeson and Taylor Lawrence, while Mica McNeill and Adele Nicoll took silver in Sigulda and Matt Weston won British Skeleton's first men's World Cup gold medal for 14 years in Igls.
Race schedules for the North American leg of the World Cup season are yet to be confirmed, with these having previously taken place on a Saturday and Sunday rather than the Friday, Saturday and Sunday fixtures favoured by European tracks.
The calendars for the Intercontinental Cup, Europa Cup, North American Cup, Para Sports World Cup and the first-ever Asian Cup are expected to be announced by the IBSF next month.