Weston wins World Cup silver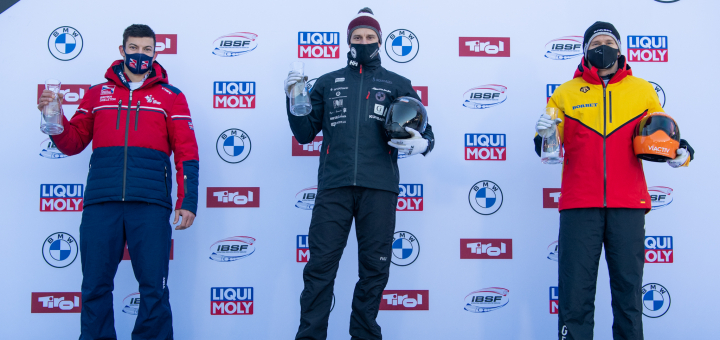 Matt Weston won World Cup silver in the men's skeleton in just his fifth ever race on the sport's top circuit on Friday morning.
The 23-year-old recorded the country's best men's result for more than a decade as he banished the heartbreak of finishing fourth at the same venue last week after leading at halfway. 
Weston only made his international racing debut a year ago but he again showed his immense potential as just Latvian legend Martins Dukurs finished ahead of him in the 18-strong field.
The former taekwondo star and rugby player became only the seventh different man to join Dukurs on the podium in Igls over the last 12 years of racing at the Austrian track as he clocked a combined time of 1 minute 44.55 seconds to comfortably see off World Champion Christopher Groetheer for silver.
"I've dreamt about a World Cup medal since I started skeleton but I never thought it could happen this quickly," said Weston, who only joined the programme in the summer of 2017 and has just 16 races at all levels behind him. 
"I don't really know what to say, to be honest - it's not something I was imaging was going to happen today!
Last week's experience definitely helped: I was able to stay calmer and more relaxed this time after Run 1. I was really pleased with the result last week so to better it today is amazing.
"I was in third after the first run so I knew that if I was leading after my second run with two to go I'd be guaranteed a medal. There's a corner just after the finish line and there's an LED screen there that just shows you a number with the position you've come down in. I was just hoping and praying that it would be a '1' - and it was. If there was a mic in my camera, I probably would have broken it - I just let out a massive 'yeaaaah' when I saw that!"
Matt Weston impressed two weeks' running in Igls
The result is the British team's second World Cup medal of the season, coming just three weeks after Marcus Wyatt won bronze in the second race of the season in Sigulda. Prior to this season, the last time a British male won a World Cup medal was 2013 when Dom Parsons took bronze in Calgary.
It also marked the first time since 2007/2008 that two different British men have won medals in the same season and the first time since Kristan Bromley made the podium three times in 2010 that the programme has celebrated multiple men's medals in a single campaign.
The team have now claimed second, third, fourth, fifth, sixth, seventh and eighth-place finishes over four World Cup races, with Dukurs taking gold on each occasion.
"We're in a really good place as a team at the moment. The coaches have been amazing and I'm confident that if Marcus or Craig had been here instead of me, they'd also have done really well," added Weston.
"The internal competition is fierce but friendly and we're all rooting for each other to do well. We're pushing each other on to be the best and that's great for all of us."
Fellow Brit Jerry Rice finished 14th - an improvement of two spots on last week's result.
The 2018 Olympian recorded a time of 53.28 seconds in Run 1 and 53.13 in Run 2, with start times of 5.04 and 4.99.
The GB women take to the ice at 12.30pm GMT, with the men returning to action in the New Year.
Did you know?
Kristan Bromley and Anthony Sawyer are the only other British men to win World Cup silver in the modern era.
Bromley claimed seven silvers between 2006 and 2010, while Swayer finished second in Cesana in 2008.