Weston wins historic World Cup gold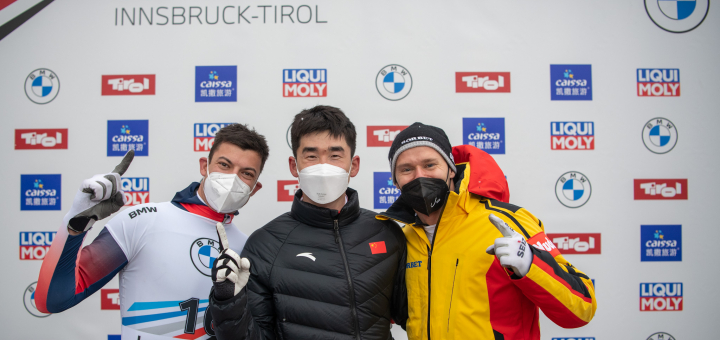 Matt Weston won World Cup skeleton gold in Igls on Friday morning for the country's first men's top tier win for nearly 14 years.
Weston shared gold with China's Wenqiang Geng and Germany's Christian Grotheer in a remarkable race in Austria.
The 24-year-old had only eight previous World Cup appearances to his name to prior to today's competition but he produced a stunning 2-run performance to better the silver medal he won at the same track 11 months ago.
The win was the first time a GB slider had stood on the top step of the podium on the World Cup circuit since Laura Deas did so in Altenberg in November 2015 and the first time a man had matched that feat since Kristan Bromley triumphed in St Moritz in January 2008.
"It's amazing - I'm almost lost for words, to be honest," said Weston, who only made his World Cup debut at the back end of the 2019/20 season and was 13th in the opening race of this season in Igls exactly a week ago. 
"It's the best feeling I've ever had on the ice and it definitely hasn't sunk in yet.
I knew I could improve on last week but to go that much better was just brilliant. 
"It was amazing winning silver here last season but this definitely beats that hands down! 
"I can take a lot of positives from the result but also because I know the runs weren't perfect - I know there's the potential for more improvement.
"This season is all about getting to the Olympics in the best shape possible and this is a big step towards doing that."
Matt Weston made history with top spot on Friday
Weston clocked a combined time of 1 minute 46.04 seconds - the exact same time as Geng and double reigning World Champion Grotheer across almost two miles of racing.
The former GB Youth Taekwondo medalist led by one hundredth of a second at halfway before both Grotheer and Geng piled on the pressure with outstanding second runs that knocked significant amounts of time off their earlier efforts.
But Weston, who also led in Igls a week before that superb silver only to finish fourth on that occasion in 2020, responded in fine fashion as he produced an even better second run to make history for both himself and the British team.
"It was a fantastic performance from Matt. To be producing that kind of performance under the pressure that comes with a World Cup race in an Olympic year bodes really well," said British Skeleton's Performance Director, Natalie Dunman.
"Matt has shown that he can compete with the very best sliders in the world and that will give him a great deal of confidence for the rest of the season.
We said we wanted to improve on last week and a gold medal is a pretty good way of doing that!
"Well done to the coaching team as well - results like these are testament to the hard work that goes in behind the scenes and everyone should be really proud of today's performance."
Fellow Brit Marcus Wyatt also improved on his showing from last Friday as he finished 10th in a time of 1 minute 46.55 seconds.
Wyatt, who won silver at the Olympic Test event in Beijing last month was equal 14th in Race 1 but he sat ninth at halfway this time around before slipping back a single spot despite a slightly quicker downtime in Run 2.
Having missed the cut by the narrowest of margins last weekend, Craig Thompson earned a second run this time around despite the difficult ice conditions that came with being the first slider of the 29 off the top in Run 1. 
The former footballer clocked 53.67 seconds to sit 20th at halfway before jumping three spots in Run 2 to finish 17th overall in a time of 1 minute 47.01.
The women's race takes place at 1.30pm GMT, with Brogan Crowley and Laura Deas going for GB in a 25-strong field.
You can watch all of this season's World Cup racing via the International Bobsleigh & Skeleton Federation website and on their YouTube channel.
We'll provide updates via our own social media channels and we'll post a round up of results once they've come in.