Weston wants to keep learning at Worlds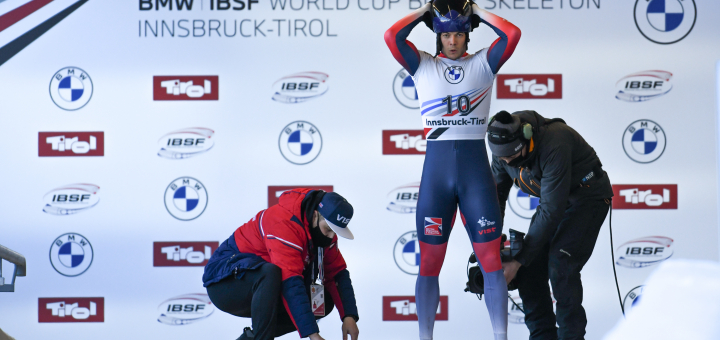 Matt Weston heads into tomorrow's World Championships with a World Cup medal under his belt but he insists he still views the biggest event of the season as a massive learning opportunity.
Weston won a superb silver medal in Igls in November and he ended the season ranked ninth in the world after securing three top five finishes in six top-tier races.
The 23-year-old also won his maiden international race with Europa Cup victory in Altenberg last month - the same track at which he'll be competing against the world's best this week - and he never finished lower than 12th in World Cup competition all season. 
But despite that success, Weston knows he's still in the early stages of his sliding career and he has no intention of putting additional pressure on himself - especially when the big goal is the Beijing Olympics rather than these World Championships.
"It's been great to get a World Cup medal and my first ever race win but the main thing is that I've learnt so much. I want that to continue at the World Champs," said Weston, who only made his racing debut in December 2019.
I'm using it as another learning experience ahead of hopefully pushing to go to the Olympics.
"Beijing has become something that's more achievable now than it was at the beginning of the season. Nothing is ever guaranteed but I feel like I've already learnt a hell of a lot that I should be able to utilise next year to give myself the best shot of qualifying.
"I learnt a lot from last year's Worlds about how I react to a four-heat race because I'd never done that before. It'll be a similar mindset this time - get the experience and make the most of it. Ultimately, this is still a learning year for me."
Matt Weston won World Cup silver before Christmas
Whenever you talk to Weston, that desire to get better by getting the absolute maximum out of every moment is always apparent. He's made it a priority to work on his off the ice processes as well as his sliding and it's clearly paying dividends.
After finishing fourth in Igls in December having been in a medal winning position after the first run, he happily discussed what he'd learnt and how he would do things differently next time. And he didn't just talk the talk, either: a week later he did exactly what he said he would and promptly won silver.
"I've made subtle changes throughout the season and I've learnt what works for me and what doesn't," added Weston.
"My sliding has got better as I've slid more but a lot of the improvement has been in how I deal with certain situations. I've learnt how to get into the right headspace; how to go into a second heat in a medal winning position; how to deal with pressure and expectation. 
"I made a lot of big changes last year so this year has been more about tweaking those things. I've got a good platform and now I've got to make the most of it.
Sometimes I forget it's only my second year of competing. I'm trying to learn loads whilst also competing against the likes of Martins (Dukurs), who's been doing this for probably ten times as long as I have.
"It's tough because a lot of the people I'm racing have already gone through that process - they've already made the mistakes and learnt from them. 
"I've made sure that, in the races where I haven't done so well, I've taken away a lot of learning points. Because of how new I am to the sport and to this level of competition, I know I need to make the most of every one of them."
Weston has made the most of his opportunities since stepping up
There's certainly no doubt Weston learnt a lot at his first World Championships here 12 months ago.
Thrust into the limelight with just one World Cup appearance to his name, he finished 15th in a 32-strong field. Having flown under the radar pre race, he was 10th quickest in his second run and 11th in his fourth, before missing out a medal in the team event by the tiniest of margins 24 hours later. 
He knows this year is different, though. He knows he's now a name that people recognise; he knows he's seen as a potential contender; and he's aware that people know he's proven he can perform on the big stage.
That won't change his approach, however. It won't make him look at things differently, even if, subconsciously, his own expectations are continually rising.
"Last year, nobody had any idea who I was. I was that guy who did one World Cup race in St Moritz and people would have wondered why they were taking me to the World Championships. I had no pressure on me.
My worst result this year is 12th and I've won a World Cup medal. I've missed two races and I'm still ranked ninth in the world. It's crazy. I'm saying it but I still don't really believe it!
"If you'd have said how this season was going to go before it started, I would have laughed at you. But the last two results that I've had - 10th and 11th - I'm actually quite disappointed with. 
"So, I'm definitely going into these Worlds with a bit more pressure. I'm not an underdog anymore and I don't have that element of surprise.  But I'm trying to get back into that mindset of having nothing to lose.
"I'm not putting a target on things or telling myself I have to finish in this position or that position for it to be a success. I'll be focussing on the processes and blocking out the noise and I know if I can do that it could be a good week."
Race schedule
Thurs 11 Feb
Women's Skeleton (Heat 1 & 2) 8am
Men's Skeleton (Heat 1 & 2) 12pm
Fri 12 Feb
Women's Skeleton (Heat 3 & 4) 8am
Men's Skeleton (Heat 3 & 4) 12pm
Sat 13 Feb
Skeleton Mixed Team Competition 8am
Women's monobob (Heat 1 & 2) 10.30am
Men's 4-man bobsleigh (Heat 1 & 2) 2.45pm

Sun 14 Feb
Women's monobob (Heat 3 & 4) 8am
Men's 4-man bobsleigh (Heat 3 & 4) 2pm
You can watch all the World Championship racing via the International Bobsleigh & Skeleton Federation website and on their YouTube channel.
We'll provide updates from the races via our own social media channels and we'll post a round up of results once they've come in.