Weston is top Brit in Igls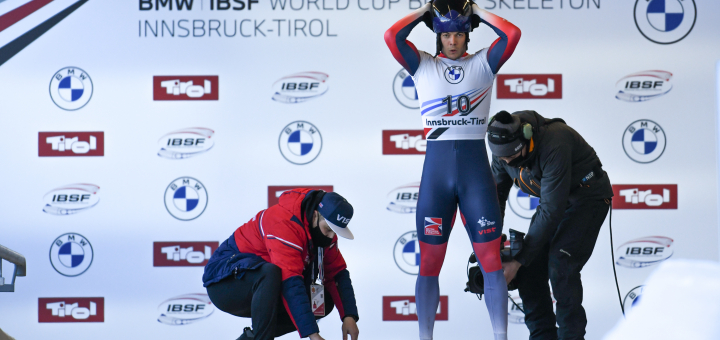 Matt Weston was the top British finisher on the opening day of World Cup action as he placed in 13th in Igls, Austria on Friday.
Marcus Wyatt finished just behind him in joint 14th, with team-mate Craig Thompson placed 21st and Brogan Crowley and Laura Deas coming 17th and 20th in the women's race.
Weston clocked a combined time of 1 minute 45.79 seconds to finish seven hundredths of a second outside the top ten in the first of back-to-back races in Innsbruck at the start of the new Olympic season. 
Weston sat 17th at the halfway mark after his first run, having being handed a tough start draw of 24th of 29 sliders, but he improved significantly thanks to the seventh fastest time of Run 2.
Wyatt also moved up the standings between runs, with last month's silver meadlist from the Olympic Test event in Beijing coming down 12th quickest second time around after being 16th at halfway.
Thompson missed out on a second run after clocking 53.29 seconds in Run 1, 0.07 seconds behind the final slider of the 20 to qualify for Run 2.
Russia's Alexander Tretiakov won gold for the second successive race in Igls, finishing ahead of Latvia's Martins Dukurs and Germany's Christian Grotheer. 
Brogan Crowley was 17th in the season opener in Igls
In the women's competition later in the day, Crowley recorded a time of 1 minute 48.97 seconds, with Deas half a second back. Crowley produced two impressive start times, with her second run effort of 5.22 seconds the third fastest of the heat, but the British pair couldn't stay with the pace set by race winner Elena Niktinia as she made it double gold for the Russian team.
Kimberley Bos - the leader at the halfway point - took silver for the Netherlands, with Belgium's Kim Meylemans winning bronze. 
The team return to the ice for Race 2 next Friday before moving on to Altenberg the following week.
Elsewhere in today's skeleton action, Milly Kellyman recorded a fine sixth-place finish in Europa Cup competition in Winterberg as Laurence Bostock came close to making it back-to-back medals on the same circuit. The first wider podium place of Kellyman's career came after just three training runs at the German venue and followed successive eighth-place performances in Lillehammer last week.
Bostock, who was third last time out in Norway, finished fourth this time around, just missing another medal in a huge field of some 33 sliders.
Freya Tarbit finished 11th in the women's EC race, with Ronnie Wells 13th, Patrick Atkin 15th and Dan Read 23rd in the men's. They all race again tomorrow at the same track.