Weston & Wyatt all set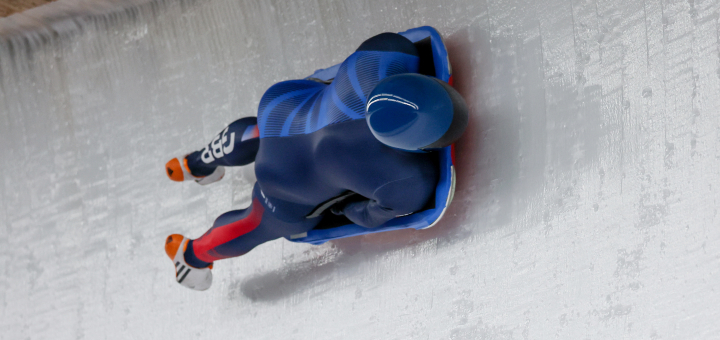 Matt Weston and Marcus Wyatt are all set to kick off our team's Olympic challenge in Beijing in the early hours of Thursday morning.
Weston and Wyatt go in the men's skeleton at 1.30am GMT (9.30am local time) in the first of five competitions BBSA athletes will be taking part in at the global showpiece in China.
Both men are competing at their first Olympics and neither can wait to get started.
"I don't think there are words out there to describe how excited I am," said Weston, who earned selection for the Games just two years after making his World Cup debut.
"Just being here and experiencing everything that has been going on in the Olympic Village has been great but I can't wait to experience racing at the Games."
"It is a lifelong dream come true to be here and to soak in the Olympics," added Wyatt, who has special memories of his only other previous visit to China back in October.
"Winning silver in the test event here was fantastic and I take so much confidence form that. Clicking with the track and proving that I can perform here to a high level so quickly was a huge boost. The rest of the season wasn't my best but the whole time I knew I had that in my back pocket.
I have that confidence coming back here knowing that I have been able to beat most of the best people in the world.
"It's a really tough, really technical, unique track, though, and it's going to be all about being really consistent during four good, solid runs - that's the key."
The Beijing track is stunning but technically challenging
While Wyatt is an Olympic debutant, he has at least experienced a Games environment before.
The 30-year-old from Honiton in Devon travelled to the last Olympics in PyeongChang four years ago with a select group of athletes and coaches from different sports who had been identified as potential prospects for these Games in Beijing.
It was only a short trip in 2018 but it had a long-lasting impact on Wyatt and it's standing him in good stead as he prepares for the biggest moment of his career to date.
"The BOA (British Olympic Association) Ambitions programme out in PyeongChang in 2018 was absolutely phenomenal. The stuff we learnt there does make it feel like I have been to an Olympic Games before.
"I was so lucky to be there for Dom (Parsons), Lizzy (Yarnold) and Laura's (Deas) medals - that's a memory that will stay with me for life, as well as how Team GB prepared me for what was to come."
That sense of feeling fully prepared for what's ahead is echoed by Weston, despite the fact that the 24-year-old from Crowborough in East Sussex has just 14 World Cup appearances to his name.
A former England Youth international in Taekwondo, Weston only made his competitive racing debut in December 2019 - some 15 years after one of the gold medal favourites, Martins Dukurs, stepped up to the World Cup circuit - but he's happy with the work that has been done to get him in the best possible place to achieve his very best in Beijing.
"We came here in October for the test event and used that time to really get a feel for the track and get as much information as we could," added Weston.
That work means that we can come here now and be the best prepared we can be.
"The day I started in the British Skeleton programme in 2017, I thought: 'if I'm going to do this sport, that's the only goal I have in mind - to go to the Olympics and try to perform the best I can on the world's biggest stage'. I feel we're really prepared to show the world what we can do."
Thurs 10 Feb
Men's Skeleton Heat 1 1.30am
Men's Skeleton Heat 2 3am
Fri 11 Feb
Men's Skeleton Heat 3 12.20pm
Men's Skeleton Heat 4 1.55pm