Uplift in funding for both sports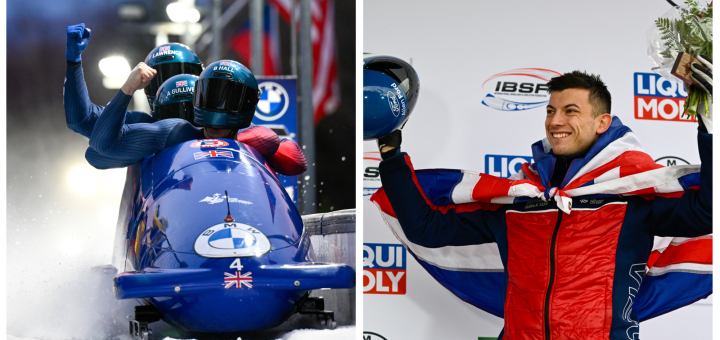 Both the British Bobsleigh and Skeleton programmes have received an uplift in funding from UK Sport following a sensational sliding season.
The Bobsleigh programme will receive an increase of £895,000 over the remainder of the Milan Cortina Olympic cycle, while the Skeleton programme will receive a further £856,000 between now and the 2026 Games period.
The news comes at the conclusion of UK Sport's annual review process, with both sports rewarded for their best-ever non-Olympic season. 
A total of more than 80 medals were won across the two sports in 2022/23, with Matt Weston winning World Championship gold in the men's skeleton and Brad Hall, Arran Gulliver, Taylor Lawrence and Greg Cackett claiming the country's first 4-man World Championship medal for 84 years with silver in St Moritz.
There were two more World Championship medals for British Skeleton in the Team event at the World Championships and the 4-man bobsleigh team and Weston were crowned European Champions in Altenberg in January. 
Hall, Gulliver, Lawrence and Cackett won more World Cup medals than the Bobsleigh programme had achieved across the three previous Olympic cycles and there were no fewer than four different World Cup medalists in the Skeleton team as Brogan Crowley, Laura Deas and Marcus Wyatt joined Weston on the podium.
"We're really pleased with the outcome of the funding decision," said British Bobsleigh's Performance Director (PD), Mark Silva.
The team have worked really hard to ensure bobsleigh in this country is in a positive position and it's fantastic to see that being recognised by UK Sport.
"Last season's achievements were really special and this uplift in funding gives us a real chance to ensure that success continues. 
"We're obviously very grateful to UK Sport for their backing but we'd also like to thank everyone who plays the National Lottery - without them, it wouldn't be possible for us to continue competing with - and beating - the best in the world."
The GB1 crew won no fewer than 16 top-tier medals last season
"We are very grateful to UK Sport for their continued investment in the British Skeleton programme. Their support is invaluable and we are pleased with the outcome of this year's review," added Natalie Dunman, PD for British Skeleton.
We enjoyed a fantastic year across all levels of our programme in 2022/23 and we are thankful to UK Sport for their recognition of the progress made. We are determined to build on that success this season, with the ultimate aim of medalling at the Milan Cortina Olympics, and UK Sport's continued backing gives us the best opportunity to do that. 
"We now continue our preparations for the new sliding season and are looking forward to getting back out on ice in October and starting where we left off last season."
The British Skelton team won three World Championship medals in 2022/23
The additional funding takes Bobsleigh's total for the quad to £2.795 million, with Skeleton now in receipt of £5.641 million over the four years from 2022-2026.
It comes as part of a wider package of support across the winter sport spectrum from UK Sport, who have committed £2.4 million additional funding in this latest review. 
"Today's announcement of additional financial support for five of our Olympic and Paralympic winter sports recognises the incredible potential of our current crop of athletes," said Dr Kate Baker, Director of Performance at UK Sport.
"They delivered several extraordinary sporting moments last season and we are excited to see them back in action later this year as we continue to pursue our ambition to become an ever- greater force in Winter Olympic and Paralympic sport. 
"Of course, we wouldn't be able to continue to invest in these talented young athletes without the incredible support we continue to receive from National Lottery players who power Olympic and Paralympic sport in this country."
| | | |
| --- | --- | --- |
| Sport | Annual Review Uplift (£) | Updated Total Investment (£) |
| Curling | - | 6,367,525 |
| Wheelchair Curling | - | 1,669,417 |
| Ski and Snowboard | 41,430 | 7,207,193 |
| Para Ski and Snowboard | 141,493 | 5,244,764 |
| Skeleton | 856,088 | 5,641,123 |
| Bobsleigh | 895,738 | 2,795,926 |
| Ice Hockey | - | 900,000 |
| Skating | 431,035 | 1,991,035 |
| Luge | - | 85,000 |
| TOTAL | 2,365,784 | 31,901,983 |