Top 6 at Euros for Hall & Gleeson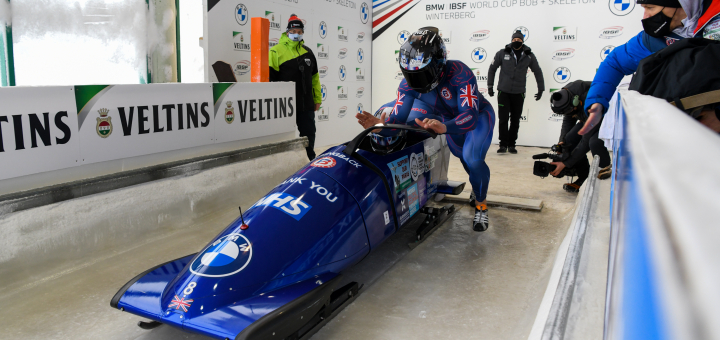 The first bobsleigh action of 2021 saw Brad Hall and Nick Gleeson secure seventh spot in Winterberg at the weekend.
With the event doubling as the European Championships, Hall and Gleeson made the top six in the continental competition once Canada's Olympic Champion Justin Kripps was removed from the standings.
The British pair were in the mix for a medal after the first run in Germany, sitting fourth at the halfway mark after clocking a time of 55.55 seconds following the third fastest start of the heat.
They were quicker off the top in Run 2 (although, this time, their 5.14 start was the fifth fastest), but they were hampered by an injury to Gleeson prior to the load. They eventually dropped three places with a 55.77 second downtime as Francesco Friedrich again took gold from fellow German Johannes Lochner and Austria's Benjamin Maier.
Earlier on Saturday morning, Mica McNeill and Montell Douglas came 12th in the women's bobsleigh in a time of 1 minute 54.75 seconds.
The British pair moved up from 14th at halfway thanks to the 10th quickest time in Run 2 but they were unable to make up enough time to challenge for the higher places.
They finished eighth overall in the European Championships, with Germany's Laura Nolte claiming both the European and World Cup win. Kim Kalicki was second and Katrin Beierl third in both competitions.
Hall and Gleeson were then due to feature in the first 4-man race of the new season on Sunday but Gleeson's injury prevented them from taking part.
The teams now move on to St Moritz, Switzerland, where Lamin Deen and his crew will join them for more World Cup action.